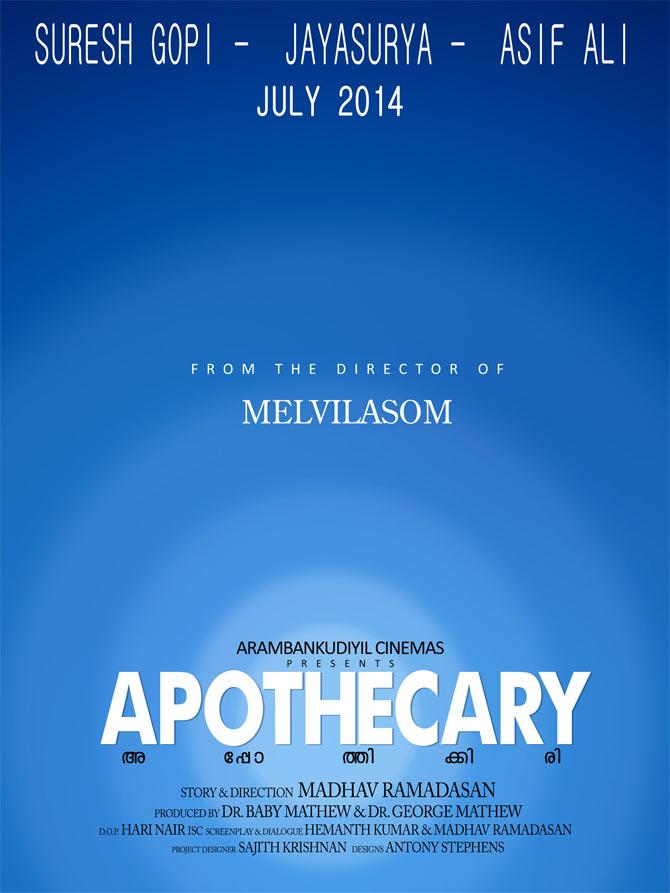 Director Madhav Ramadasan, winner of the prestigious Gollappudi Srinivas award for debutant director for his brilliant Malayalam film Melvilasam, has announced his next film, titled Apothecary (pronounced in Malayalam as 'Appothikkiri').

The film has Suresh Gopi, Jayasurya and Asif Ali in the lead roles.

Apothecary is a historical name for a medical practitioner, dating back to 2600 BC to ancient Babylon, which provides one of the earliest
records of the practice of the apothecary.
"Why my film is titled apothecary is part of the suspense of the film. Yes, the film is about a doctor," the director says.
His first film,
Melvilasam,
narrated the court-martial of a dalit soldier. There were no female characters in the film.
Apothecary
has three actresses. The names of the female leads will be announced later, Ramadasan said.
Apothecary
is being produced under the banner of Arambankudiyil Cinemas by Dr Baby Mathew and Dr George Mathew. Hari Nair is the cinematographer.
The shooting will start in February next year, at Palakkad.