Akshay Kumar, who was conferred a PhD degree last Friday, is all ready for his new television, Khatron Ke Khiladi, the desi version of Fear Factor. Apart from hosting the show, Akshay will also perform stunts and train the 12 participants.

 

Incidentally, all the participants -- Sonali  Kulkarni, Yaana Gupta, Aditi Govitrikar, Pooja Bedi, Tupur and Tapur Chatterjee, Sayali Bhagat, Netra Raghuraman, Anjana Sukjani, Dipannita Sharma, Payal Rohtagi and Meghna Naidu -- are women.

When asked about this, Akshay replied, "Why not? I think there is a misunderstanding about women. Women are stronger and more fearless than men. They might be frightened of cockroaches but when there is a crisis, they can bravely face the situation. I know so many women, who are fearless and have done wonderful jobs."

 

Yaana, like the other contestants, is getting ready for the show. "I have changed the physical training that I was doing earlier. Now, I'm concentrating on weights, pull ups and push ups," she says.

She

confesses that she is not prepared for creepy crawly creatures and is scared of them. "But the best part of this Fear Factor is we don't have to eat creepy creatures!" Yaana exclaims.

 

The crew will leave for South Africa on May 21, where the show will be shot.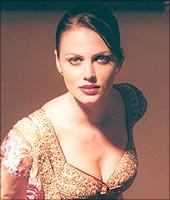 "We will be in South Africa for 20 days, and will shoot for 16 days out of that," Yaana says. "We will shoot for two stunts everyday and one participant will be eliminated."
Talking about fear Akshay says, "Fear is everywhere. When you're driving a car or walking on the road, anything can happen. But will you stop driving or walking because of this? No. You throw out fear. I am doing the same. When I do a stunt, I am always scared. But I take precautions and overcome my fear, to put up a better stunt. Apart from this, I do yoga and meditation to overcome fear. My son, Aarav, thinks that I am Superman and he wants me to do stunts. So I took up this offer just to make him happy."
Khatron Ke Khiladi will be telecast in July.