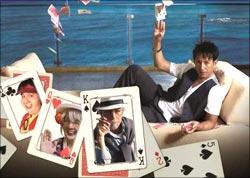 Everything's on the web so why not some magic. American-Japanese
Cyril Takayama
is considered the world's first cyber magician. Many of his shows have been uploaded and can be viewed on YouTube.
He is currently in India to promote his TV show,
Cyril's Family Vacation: Hawaii Edition
which will premiere on June 17 at 8.30 pm on AXN.
Takayama started off by doing his magic shows for small audiences and at weddings and ceremonies around Japan.
He then moved to television to reach a larger audience. He is also credited with being one of the leading innovators of the street magic genre.
In Cyril's Family Vacation
, he goes on holiday to Hawaii with his make-believe family -- Uncle Richard, Grandma Magi and Cousin Tiny.
The illusionist tells us about his magic and some magical moments.
Is this your first trip to India?

Yes. All my Indian friends have told me that the food is wonderful here; people are great and have so many cultural activities.
I want to get out of my hotel and experience the true essence of India.
What is Cyril's Family Vacation all about?

Most of the magic I do is street-magic oriented. I have been working hard, and so I thought it's time for me to take a break and create a new kind of magic in a different way.
What are your first memories of magic?

I was seven years old when I first saw a magic show in Las Vegas.
I saw a magician on stage take out his white glove, throw it out and it turned into a white bird.
He came back on stage, covered the bird with white fabric and then whipped it off and turned it into a beautiful lady all in white! Then he covered her with the fabric and when he whipped it away, the bird flew out.
That was the most amazing thing that I had ever seen as a seven- year-old kid.
I was so much in love with magic that I wanted to go to my hotel room and make something change, but of course that didn't happen.
At what age did you decide that you wanted to learn magic?

I was 10 years old when I discovered that magic was not real.
When I learnt to do magic there were no resources like we have now.
The magic tricks were secrets but I didn't give up. A close friend of my family gifted me 10 private lessons of magic with real magicians on my birthday. I took the lessons and that is what changed my life.
What

is the best and the worst part of magic?

The best part is seeing a smile on people's faces-- that keeps me going.
The worst part of magic is that I just don't want to stop magic…I want to keep doing it (smiles).
Has a performance ever failed? How did you cover up?

Well, magic is an art form like many other art forms. You make mistakes and it is part of your leaning experience.
It's okay to make mistakes but it's important how you recover from them, learn from your mistakes, and continue your work.
I too have those mistake moments but the best way to get out of it is just move on and keep the magic coming one after another.
What is so magical about magic?

The most magical moment is when I see how my magic has made an impact on someone's life. There are many instances, but I would like to talk about a tragic story, a recent one.
Yuna, a 13-year-old girl suffering from brain cancer was a big fan of mine. She had very little time to live so the doctors from the hospital contacted me.
I paid her a surprise visit and performed tricks, and she smiled.
Her family said she had smiled after a long time. The experience was humbling.
She passed away two weeks ago. Her parents have written to me saying that she has been at peace through the magical experience. This kind of experience makes me truly magical.
Have you seen any Indian magic or heard about Indian magicians like P C Sorcar?

I don't know much about the history of magic here in India. I don't know much about P C Sorcar but I have seen many beautiful posters of his work.
Now that I am here I am actually trying to find out more not only about him but other magic directors.
I would love to see some traditional Indian magic as well. Actually, I am truly fascinated with the traditions of Hindu culture.
Are you familiar with Bollywood movies and actors?

I apologise once again because I don't know the names, but I have seen a few clippings of the films.
There are bright colours, people are so happy and I like the choreographed dancing. I'd like to challenge that magic one of these days (smiles).
If you weren't a magician what profession would you have chosen?

If I wasn't a magician then I would be a chef because I love food and cooking.
I wouldn't be a chef for a big restaurant but for a small place where friends can bring their friends, where people can talk and have a good time. My favourite cuisine is Japanese