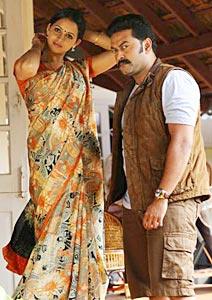 Ezhamathe Varavu may not be the best from the legendary team, but it is still worth a watch feels Paresh C Palicha

Expectations are bound to be sky high when the legendary team of writer M T Vasudevan Nair and director Hariharan come together as they have for Ezhamathe Varavu.

The story may be a refurbished version of what they made more than three decades ago, but it still holds our interest and feels topical and contemporary. There are some inspired performances by the lead actors, Indrajith, Vineeth and Bhavna.

Dr Prasad (Vineeth), an archaeologist, comes to the forest region of Wayanad. He puts up at a bungalow on the estate of a rich plantation owner Gopi (Indrajith). Gopi's wife Bhanu (Bhavana) turns out to have been a college mate of Prasad's.

All is not well between the couple. And, as we move forward with the story, the layers are peeled off delicately from the characters. We come to understand that there was a deeper relationship between
Prasad and Bhanu. While Bhanu is not yet reconciled to a life without Prasad, he has moved on. Gopi, who completes the triangle, is a typical rich lout who does not waste any opportunity to taunt and abuse his wife.
The centre of the story, though, is a beast of some kind that is hunting tribal women. The tribal myth has it that there is a beast that comes out of the woods every seven years, hunts down seven women, and goes back.
This prompts Gopi, a self proclaimed hunter, to stay in the estate bungalow with Prasad. His wife follows after a few days. This provides ample scope for interactions between these characters.
The lead actors perform well--Vineeth as Prasad, a scholarly man of few words, and Indrajith as the loud-mouthed Gopi reminding us of the dark villains of yore yet acting with subtlety to match today's sensibility. Only Bhavana looks too young to be Gopi's wife.
Ezhamathe Varavu
may not be the best from the legendary team, but it is still worth a watch.
Rediff Rating: