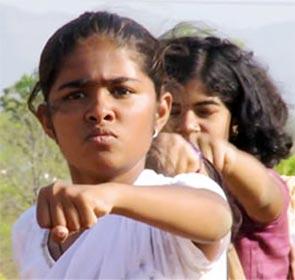 'It's not every day a girl is nominated for an Emmy and this one came out of the blue!'
The World Before Her director Nisha Pahuja is thrilled.
It was early in 2012 that Rediff.com's Aseem Chhabra spotted a documentary by an Indo-Canadian filmmaker that really stood out.
He was at the Tribeca Film Festival in New York where Nisha Pahuja's The World Before Her went on to pick up the best documentary feature award.
"In the very beginning, I really wanted to make a film looking primarily at the Miss India pageant, as a way to understand and explore India as it was going through changes.

"Then I started to read up on the Hindu fundamentalists. I learned about the big protest that happened in 1996 against the Miss World beauty pageant in Bengaluru," she had then told us.
"Initially, the Hindutva focus was going to be a sidebar story to the main pageant. When I got to India in 2009 to do research -- and I started to meet the fundamentalists -- they just became so much more interesting… Over a period of time the film became the story about the beauty contests, the fundamentalists and with a feminist angle I wanted to incorporate."
In the two years since Pahuja has collected accolades wherever the film has gone and the latest one came July 15.
The film was nominated in the Outstanding Coverage of a Current News Story category at the 35th annual News and Documentary Emmy Awards.
"I got an e-mail from Simon Kilmurry at POV telling me about the nomination and I was totally shocked," Pahuja told Rediff.com.
"It's not every day a girl is nominated for an Emmy and this one came out of the blue! But all of us involved with the film and the India release were thrilled. It feels especially great after all the work of getting the film out in India.

"It's a wonderful way to punctuate that journey. There's a lot of support for the film in India, a lot of love and I think that message in my inbox has made many, many people happy."
The awards will be presented September 30.

Image: A still from The World Before Her. Inset: Nisha Pahuja