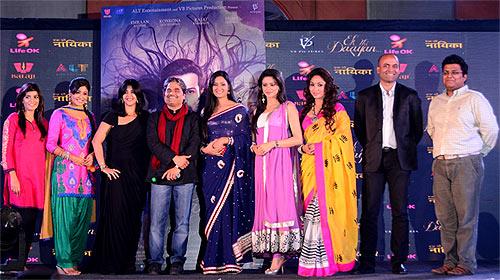 Producers come up with novel ideas to promote their movies but it seems that Ekta Kapoor is always a step ahead.

Ekta has launched a 16-episode television show to promote her upcoming film, Ek Thi Daayan, which will feature her favourite leading ladies from the Balaji soaps.

Co-produced by Vishal Bhardwaj, the TV series will be called Ek Thhi Naayka. Both Ekta and Bhardwaj will cameo in the show.

"I am a terrible actor," says Ekta. "So do not expect me to act. I will do a blink-and-miss appearance on the show. Hope I don't get any dialogues! I hope I am just standing behind a tree!"

Bhardwaj will feature in the first episode while Emraan Hashmi will make his appearance in the final episode. All the actors of the film will have cameos on the show.

The ladies featuring on the show will represent the community they belong to -- Smriti Irani as a Gujarati, Sakshi Tanwar as a Rajasthani, Mauli Ganguly as a Bengali, Kritika Kaamra as a Punjabi, Aamna Sharif as a Muslim, Shweta Tiwari as a Bhojpuri, Ankita Lokhande as a Maharashtrian and Pooja Gaur as a Delhiite.

Talking about the leading ladies, Ekta said, "I have been a part of their lives but they have become stars on their own. I am amazed at the kindness they have shown me. Each one of them agreed instantly to do my show."

Ek Thi Daayan, a supernatural thriller is directed by Kanan Iyer, and stars Emraan Hashmi, Konkona Sen Sharma,Kalki Koechlinand Huma Qureshi. It will release on April 18.
Ek Thhi Naayka will go on air from March 9 at 11pm on Life OK.
In the picture: Pooja Gor, Kritika Kamra, Ekta Kapoor, Vishal Bhardwaj, Shweta Tiwari, Aamna Shariff, Mouli Ganguly, Life OK's General Manager Ajit Thakur and Tanuj Garg.