Sanjay Dutt, currently out on bail after having been sentenced to six years of rigorous imprisonment, had nothing but jail coupons to offer to his sisters when they visited him in jail on Raksha Bandhan during his first stint in jail in 1994 for his involvement in the Mumbai serial blasts.
'I have nothing to give you both, but I have saved these coupons for you. This is all I have, Sanjay had said. It was an extremely emotional moment and it was the first time we saw dad break down and cry,' Congress MP and Sanjay's sister Priya Dutt recalls in a forthcoming book.
Jointly written by Priya, her sister Namrata and Sanjay, the book titled Mr and Mrs Dutt, Memories of our Parents is scheduled to be released by Roli Books later this month.
Recalling the traumatic days after Sanjay's arrest in 1994 in connection with the 1993 bomb blasts, the book says while he was in prison, 'We had some support at first, and then slowly people started drifting away. We were on our own till help came to us from an unlikely quarter. Balasaheb Thackeray made a public declaration saying he didn't believe any member of the Dutt family could be anti-national.'
The sisters recall the days when, on his return from Mauritius, Sanjay was whisked away by the police from the airport and how a devastated Sunil Dutt ran from pillar to post worrying how the situation could be resolved.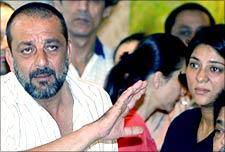 On his days inside the jail in 1994, Sanjay says, 'Inside the prison, it was crushing to look outside and see people walking about free. The cell was small. I shared it with someone. I slept on the floor and read a lot. I couldn't exercise because I wasn't in the right frame of mind to do anything. I read the Gita and the Ramayana. I also read Mandela's book which really inspired me.' 
The Dutt sisters recall Sanjay saying that he was being accused of being anti-national and a terrorist. 'What a terrible blow to my family! I hated dad seeing me in such conditions and constantly asked, when am I coming out? One day when Dad came to meet me, he held my shoulders and said I can't do anything,' they quote Sanjay telling them.
'Until that point in time, our family held a kind of record in as much as we never had an income tax raid, a frequent occurrence in the lives of movie stars. And now a warrant had been issued to search our home. A battalion of policemen arrived with search dogs. It was deeply humiliating experience. We watched as they combed every room, every cupboard. Nothing was found,' the book says.
As Mumbai burned and Sanjay was put behind the bars, Thackeray made a public declaration that he did not believe any member of the Dutt family could be anti-national.
'Balasaheb Thackeray had high regard for mom and dad and his statement made a huge difference in public perception. Dad and Sanjay were so grateful for his support which came at a time when it was needed the most,' the sisters say.
'In the days that followed dad kept trying to get Sanjay released from prison. He met every possible person who could help to explain the legalities involved,' the book says. 'Dad was a broken man. This was the first time we saw such helplessness in his eyes. A man who was a pillar of strength to us seemed to be collapsing; on top of that we had many financial problems, we had no money coming in and the legal expenses were mounting,' the sisters say.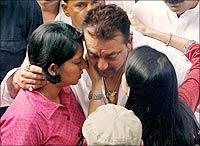 'Dad had become obsessed with Sanjay's situation and his behaviour became increasingly erratic. He did not sleep and would get up at four in the morning and say how could he sleep when he knew his son was in the same city, a few miles away from him, lying on a cold stone floor?'
On the events in 1993 after the demolition of the Babri Masjid, Priya Dutt says, 'Papa, Sanju and I would fill trucks with food and medicines and drive to the slum areas. People claimed Dad was helping only Muslims; this was in order to give his work a communal slant but it was not true.'
'We started getting threatening calls. The situation got worse by the hour.' One day Dilip Kumar and Saira called and said, 'Priya, we have news that both our homes are going to be attacked. Why don't you come over here now?'
'Dad resigned from the Lok Sabha in protest that the government was not doing enough. Given the terrible situation in Mumbai, he felt that teh Army should have been deployed sooner. Alas it did not happen and Mumbai burned. The situation was going from bad to worse. Instead of his resignation acting as pressure on the government to do something, it boomeranged on us,' the Dutt children say.
Amidst the trauma, they also recall how Sanjay's career was doing better and better. The culmination of this upward swing was Rajkumar Hirani's Munnabhai MBBS, which ironically turned out to be Sunil Dutt's last film and the only film in which father and son appeared together.
'Dad really enjoyed Munnabhai. It gave him an opportunity to stop worrying about Sanjay and revel instead in his success,' the book says.
'Dad was so happy with my films,' says Sanjay, adding 'He was especially proud of Munnabhai.' 
On his mother, Sanjay says he had not even grieved for her but hearing her taped voice during his rehab days in the US, advising him to be a good man, made a tremendous impact and changed everything for him.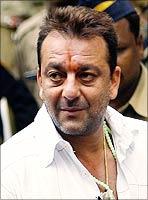 'I started crying and cried continuously for four days. After that everything changed for me. I think till then I hadn't grieved for her. I never went back after that, touchwood. And I have been clean for nearly 25 years,' Sanjay said.
'I was under treatment for a year in Jackson, Mississippi. In rehab, we had group therapy where you talk about different things and get to the core of the problem.
'It was a terrible time for Dad, Namrata and Priya. My father sent me some audiotapes and they played these in the group therapy session -- Mom talking to me, saying, be a good man, I want you to be humble...' Sanjay says.
The Congress MP describes the book as a very personal account written from the children's perspective about the influence their parents Sunil Dutt and Nargis had on their lives, 'because of which the three of us have a tremendous bond among us.'
'The book will show that in spite of all the scrutiny we have undergone as a family, we are just like any other family. Any father would be able to relate to my father and the same applies to mothers as well,' Priya told PTI.