Dibakar Banerjee's Khosla Ka Ghosla may have been small-budget, but it was one of the best-made movies this year.
Starring Anupam Kher, Boman Irani, Parvin Dabas, Navin Nischol, Vinay Pathak, Ranvir Shorey and Tara Sharma, it was appreciated by critics and audiences alike.
The film's music, espcially the song Chak De Phatte, did as well as the film. Not many know that the creator behind those tunes is 27-year-old Dhruv Dhalla from Delhi.
The young composer once played with Palash Sen's Euphoria, and has reached this place in Bollywood after long hours of practice and determination.
Patcy N got him to talk about himself, and his hit song.
Tell us something about yourself.
I was in the school band in Delhi. We would do Bon Jovi and Guns 'n' Roses covers. That's when I started liking music. I am self-taught; I did not learn music from anyone. In fact, my family is in a business of manufacturing car radiators.
I always regarded music as my hobby, and so I enrolled for a business management degree course. But soon, I started making jingles for friends and professional offers started coming in. I started playing the keyboard just by listening to CDs, and would play the entire night. That's when I realised that I did not want to study business. My father was okay with it, so I went studied music in the US for a year. 
But before you went to the US, you played for the pop band, Euphoria.
Yes. Palash Sen (singer) heard me at a school concert and called me. I joined their band, and played with them for two years. I played at their live shows only, not for the albums, because they had a deal with Archies that they would not change the faces of their band members.
I like music composed by Euphoria, even before I knew them. I had liked their Dhoom pichak dhoom and Tum. I had no problem recreating their music. Euphoria is a very energetic group. Palash calls the shots, as he is the band's frontman. 
What did you do after returning from the US?
After I came back, I didn't know how to pursue my interest. I started working in a call centre for two months. While I was working, I got an offer for a jingle. I soon realised that a jingle was paying me more for two days of work than a month at the call centre. So I started doing jingles.
After that, I did seven albums with Times Music. Reiki masters Nalin Nirula and Rinu Nirula put me on a project they were doing, where I had to give background music for their discourses. It was tricky because I had to depict air, sun and water through music.
What did you do next?
I couldn't do much as my mother was unwell. She had a tumour in her liver. I couldn't look for work, as I was in the hospital most of the time. I just did the work that came my way. I did radio and television jingles. My mother passed away in 2004.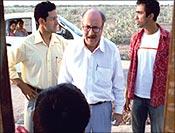 How did you get Khosla Ka Ghosla?
My friend was the assistant director of Khosla Ka Ghosla. She told me that the director Dibakar Banerjee was looking for some sample music. I went there for the experience. He heard my stuff but for six months, I didn't hear from him. I kept calling him every month but he was busy with his shoot. 
Then in October 2003, he called back and said he wanted only one song from me -- a Punjabi number based on the loud attitude of Delhi. Then Dibakar showed me the scene where the song would be added to. He also gave me a line from the film. He needed a fun soundtrack but at the same time, it had to be serious. The song was Chak De Phatte.
He told me to come up with the idea in three-four days. But I said that we could work on it right away. We did it in three hours. The next morning, the producer okayed it. Later, I did four songs and one instrumental number.
This movie took three years to release. Were you afraid that the music would get stale?
Yes, I feared the technology might change, and I spoke to Dibakar about it too. But he could not do anything about it. Luckily, the songs worked. Kailesh Kher has given us the depth and energy that we needed. Three years back, he wasn't a big star; he just had Allah ke bandhe.
How was the Khosla Ka Ghosla experience?
It was my first film, so I was very excited. It was a dream come true. But I never thought I would start my career with a Punjabi song.
Do you think getting into Bollywood is easy?
No. I was lucky. People come from all over India and give their everything for a chance, but sometimes, they don't even get a chance to meet the producers. Many of them go back empty-handed. Two things matter a lot: Destiny and hard work. Without them, you don't stand a chance.
What did you do after Khosla Ka Ghosla?
I did a thriller called Bullion Mind. It's a Dubai based film. It's the first UAE production. It stars Bhumika Puri, a model from Mumbai.
Which is tougher: advertising or film songs?
In ad films, you're trying to explain the concept in 30 seconds. In film music, the canvas is bigger. You have more dramatics. So both are equally tough.
Which music composer do you like the most?
A R Rahman. I would like to use a lot of strings like he does. Of late, I have also started liking the work of Vishal-Shekar and Shankar-Eshaan-Loy because they are fresh and energetic.