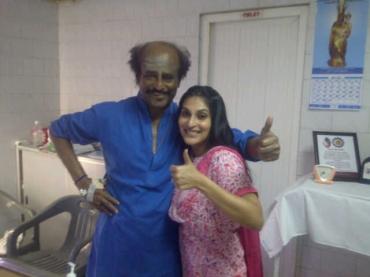 Superstar Rajnikanth's [ Images ] son-in-law actor Dhanush on Saturday tweeted an image of the superstar in his hospital room at the Sri Ramachandra Medical Centre in Chennai.
In the photograph, the actor is seen posing with his daughter Aishwarya, who is married to Dhanush.
Dhanush also tweeted, "SS in d hospital. He is rocking. This pic is 4 his fans. Please continue your routine life. Don't believe rumours. Don't do anything to yourselves. I request the media people to post this pic. So that fans will know that he is ok and they will be at peace. SUPERSTAR rocks."
Rajnikanth, who suffered from viral fever and exhaustion recently, was admitted to SRMC days after he was discharged from another hospital, where he had been treated for allergic bronchitis and viral fever.
The 61 year-old actor was shifted to the ICU on Wednesday night to improve his breathing pattern.
In the wake of wild rumours and speculative reports about his health, the hospital as well as his wife had assured his worried fans that the superstar was stable and "doing fine".