He may be young but Devi Sri Prasad has most of the top stars dancing to his tunes. The latest being Chiranjeevi, the star of Shankardada Zindabad (SDZ), which is produced by Gemini Film Circuit and directed by Prabhudeva.
All of 25, this musical genius has an impressive body of work, particularly in Telugu films. He made his debut in the film industry at the age of 17 with Devi and has risen up the musical ladder delivering quite a few chartbusters in the last eight years.
His training in mandolin under the maestro Srinivas has provided just the foundation in classical music.
Radhika Rajamani caught up with the musical genius before the film's release this Friday to shed some more light on his work. Excerpts:
You scored the music for Shankardada MBBS. How does it feel to be the only technician who has been retained in the sequel?
I am very proud to be the music director of the sequel. It was a challenge doing Shankardada MBBS because the pressure and expectations were very high. People kept asking how I was planning the songs and this only increased the responsibility on me.
It is certainly an honour. All the other technicians have changed in the sequel except the music director. I feel proud of it.
Did you see the original (Lage Raho Munnabhai)? Did you keep that in mind while scoring the music? How did you plan the songs in SDZ?
Yes, I saw both the original series. However, I did not keep the music of the original in mind while composing for Shankardada MBBS. And the same goes for its sequel. When I watched Lage Raho...at the theatre, I fell in love with the film because of its different concept.Right from the day I saw the film, things started working in my head.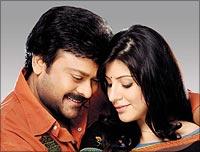 Here we have a dancing hero (Chiranjeevi) and the music had to be different for his films. Songs were situational. For example, the heroine is an RJ who keeps saying 'Good morning'. In Hindi they did not use those words for the song even though the character is the same who says 'Good Morning Mumbai'. What I did was to link up the situation with a dancing number.
So that you can showcase the megastar's dancing skills?
Yes. I also wrote the lyrics. I linked 'Good Morning' to the hero's romance.
How have you worked on the overall music?
The main method I followed was that no song should go out of the situation but at the same time it should not lose the foot-tapping beat as it is different from the usual entertainers. Because of the seriousness of the film I had to balance it with songs. I had one tune for every situation.
What was the idea of introducing the song Aakelesthe? It's not there in the original…
There is a commercial aspect to it. In Chiranjeevi's films, we need six songs and we had only five in the film (including the song on the Mahatma which appears here and there in the film). So there was a nice situation and we decided to link up the situation to a nice, peppy dance number.
How is it composing music for Chiranjeevi? This is your third film with him. Do you have any special parameters?
Yes, this is my third film with Chiranjeevi, Prabhudeva and Gemini Film Circuit. It's all a coincidence really. When I'm making music I generally keep in mind the situation and how well I can catch the audience's attention throughout the song.
I also follow these things while composing for Chiranjeevi. I also look the rhythms, which would suit his body language. Since I'm a fan I also imagine what kind of costumes and dance movements would look good on him.
The rock and roll number Chaila Chaila in Shankardada MBBS was for him. Since I know he is interested in dance I try to keep the dances peppy.
Did Chiranjeevi give you any inputs?
Everybody (including the producer and director) heard these songs after they were done. In fact Prabhudeva told me he was happy that without any music sittings, I had done the songs well.
When Chiranjeevi heard the songs he was very excited. After the audio release he told me that people would love the songs and all would be super hits. He asked me how I looked at the concepts as each song sounded different. I told him the opening lines (lyrics) of all songs are mine. He appreciated me for linking the songs so well with the script.
You seem to have a knack for spotting talent. You introduced Mamta Mohandas (actress) as a singer in Rakhi and followed it up with Jagadam. Now Mamta has sung Aakelesthe in Shankardada Zindabad. What did you notice in her voice?
Basically when I introduce a musician, more than talent I see his/her love for music. Dedication is the most important, which Mamta has in abundance. When you have that passion for something, automatically whatever you do will be nice.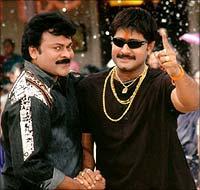 Mamta has a terrific, energetic voice and she is also like me -- when she sings she jumps around -- performing while singing. She enjoys the song, goes into it, and keeps improvising it even though she does not know the language.
For those who do not know the language, I explain the meaning of the lyrics and act it out and show the expressions to them. Since she is an actress, she improvises it more and does a great job.
You also got Adnan Sami to sing Bhoogolamantha in SDZ. How was the experience of collaborating with him?
I introduced him in Varsham (Telugu). He also sang in Shankardada MBBS. It's three years since we met but when he saw me, he started singing the Shankardada MBBS song Ye jilla. I was shocked to know that he still remembered it. When I asked him, he said the songs he sung in Varsham (Nizam Pori…) and Shankardada MBBS were unforgettable. That was a big compliment coming from such a big musician. When he sang for SDZ, he literally freaked out.
As fellow musicians, do you share notes on music?
I'm a fan of Adnan. Whenever we meet I tell him about how I feel for each of his song and he feels happy about it. Then he discusses my songs. It was really nice. He also appreciated my playing the keyboard. We discuss about music in general and his upcoming albums.
Are you happy with the way the music is doing?
Yeah, I am really happy. Chiranjeevi himself said it is a greater hit than Shankardada MBBS. Everybody else has given me the same report. Even M S Raju who introduced me congratulated me.
How do you manage singing and composing?
Singing is a part of composing, so it doesn't need a lot of time. I sing all the tracks myself before playing it to the singer. I try to give 100 per cent to each song because only then, the singer can try to do better than that.
What are the other projects you are working on?
I am doing Venkatesh's untitled film produced by Suresh Productions and directed by Boyapati Seenu. The other one is Pawan Kalyan's, which is produced by Geeta Arts and directed by Trivikram Srinivas. I am also the music for the Tamil remake of Bommarillu and a project with Vikram called Kandasamy.
You seem to be comfortable in Telugu and Tamil…
Since I was brought up in Chennai and studied there I'm familiar with the Tamil film industry and its music. Telugu comes easily to me. Most of the Tamil directors are fans of my Telugu music. So it feels good.
Do you seek inspiration from other composers?
Ilayaraja Sir. He is like God to me. In fact I have got a wallsize photo of his in my studio at Chennai.