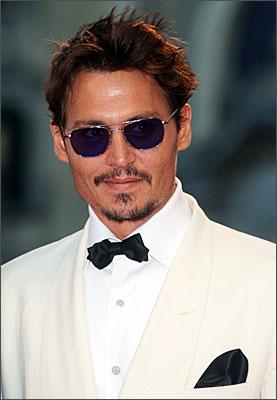 Johnny Depp starrer Shantaram has become the third big movie to be halted due to the writer's strike that has already grounded Ron Howard-directed Angels & Demons and the Oliver Stone-directed Pinkville.
Warner Bros. has called off a February production start on Shantaram, Mira Nair's adaptation of the Gregory David Roberts novel of the same name.
Depp, who is also producing the film with Graham King, was going to star in it in the lead role, playing an Australian heroin addict who escapes a maximum-security prison, reinvents himself as a doctor in the slums of India and eventually uses gun-running and counterfeiting skills to fight against the invading Russian troops in Afghanistan.
Bollywood actor Abhishek Bachchan was also set to star, reports Variety.
According to sources, Warner Bros., Nair, King and Depp plan to start work on the film as soon as possible.
The movie has been a top priority for WB ever since it shelved out 2 million dollars for the rights to the book.
Apart from script considerations, sources have also attributed the postponement to other factors, such as the onset of monsoon season in India and a snag over how much time Depp would spend shooting there vs New Mexico, where part of the film will be shot.
Text: ANI | Photograph: Pascal Le Segretain/Getty Image