Ahana Deol will be seen in a rare interview when she sits with her more famous sister Esha, and gets grilled by Simi Garewal in her television show, Rendezvous with Simi Garewal.
rediff.com gives you a preview of what the show will be like:
Simi: You look amazing. You remember the last time you were here, you weren't even sure you were going to join films.
Esha: I remember the last time I was here. I kind of broke the ice and mentioned that I was interested in acting.
Simi: What do you feel about this transformation?
Esha: Mom thought I look like J Lo!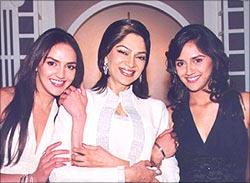 Simi: Lovely! (laughs)
Esha: My grandmom wasn't happy! She was like I'm dyeing my hair black and you girls are going and colouring your hair white! (laughs) So I told her, "No, it's just fashion and I'm supposed to do it for the film!"
Simi: Esha, you are seen as a sex symbol!
Esha: (laughs)
Simi: What?
Esha: Yes! I am!
Simi: But what's interesting is that you are not seen as a silly sex symbol but a strong sexy symbol and you only get strong roles that way.
Esha: Yeah! I hope it stays that way. That was my intention.
Simi: How ambitious are you?
Esha: I am very ambitious. Very ambitious.
Simi: I can see that in you.
Esha: I am a very restless person. Can't sit in one place for too long. I need to keep working. I can't sit at home.
Simi: Very focused!
Esha: That's because my life is movies and my family. That's it! I don't need to advertise anything else. For me, my career is more important than any man in my life also.
Simi: That reminds me, you don't have a boyfriend?
Esha: No!
Simi: We have to find you a boyfriend. Isn't mom thinking of finding you a boyfriend?
Esha: Mom is very keen that I have a boyfriend. Somewhere I feel that I won't be able to (do justice to)  that side right now. I won't be able to give him my 100 per cent. For me, if I am in a relationship, I want that also to be 100 per cent.
Simi: Tell me, has your relationship (with Ahana) changed?
Esha: Yeah! As in we've become more buddy-buddy. Then it was elder sister and younger sister.
Ahana: She's my best friend in the house.
Simi: Then you used to fight a lot!
Esha: We still fight!
Simi: Ahana, are you going to become an actor?
Ahana: No, I'm not.
Simi: No? Not like the rest of your family? Why?
Ahana: I don't know! It doesn't interest me! I feel everyone else at home is doing it. So from what I see, I don't feel that I want to get into it. I don't want to become an actor.
Simi: But why?
Ahana: I am just not comfortable being around so many people.
Simi: But you have received loads of offers already.
Ahana: No.
Esha: Chura Liya Hai Tumne, the film I did, was offered to her. She rejected it and then I got it.
Simi: Why did you reject it?
Ahana: Because I wasn't interested in it.
Simi: But you never gave it a chance.
Ahana: Like for Esha, she knew  before (somehow) that she (wanted) to do this. Mom and all used to be down in the dining hall or somewhere and she used to sit upstairs in Mom's room at the dressing table and look at herself in the mirror and put lipstick and all. I've caught her so many times doing it.
Simi: And you never wanted to do it?
Ahana: It's just not my kind of thing to do.
Esha: She's a very simple girl.
Simi: Who's more emotional between you two?
Esha: I'm emotional but I'm... I don't know… I'm not that emotional.
Simi: (asks Ahana) She's less emotional than you are?
Ahana: Yeah.
Esha: Like she sees a puppy on the road and the puppy is walking aimlessly on the road. You look at her and she'll have tears in her eyes.
Simi: You like animals?
Ahana: Of course.
Catch Rendezvous with Simi Garewal on Star World at 9:30 pm on September 17.