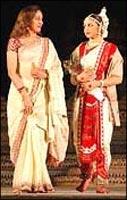 Hema Malini and her daughter Esha Deol are familiar Bollywood faces. But Ahana, Esha's sister, keeps away from the limelight.

So when he heard that Hema Malini had shot for an advertisement with Ahana, Subhash K Jha decided to speak to the Dream Girl of yesterday and find out if Ahana too is preparing for an acting career. Excerpts:

I believe you've just done an ad with Ahana?

Who told you? News travels fast! We shot it just yesterday. I made her do it because she has to know her true worth. Right now she doesn't seem to know what she wants. Yeh karungi woh karungi [I'll do this and that]… I'll direct a film… I'll do an ad.

She thinks she's good for chotku-motku [trivial] work. I feel she is capable of truly wonderful work. So I coaxed her into doing this ad.

I told her, 'Mama is with you. You'll be just next to mummy and she'll take care of everything.' That convinced her.

What's the ad for?

I endorse the Kent water purifier. For the new ad they wanted a girl with me. I suggested they take my daughter. Ahana wasn't willing, but for my sake she did it.

You bullied her into doing it?

[Laughs] Do you think today's kids can be bullied into doing anything? No! I just offered her my support.

How did it go?

Why are you making it a big issue? It was just one

of those things that happened.

Anything you do makes big news.

Really? You know, Esha and I have never been seen on screen together. But we've done lots of photo shoots together.

Is this ad a step towards acting for Ahana?

No, not at all. It's just to boost her self-confidence. I just wanted her to know this [facing the camera] was one of the things she can do if she wants to. Otherwise I'm not going to force any of my children to do anything.

I won't allow anyone to force Ahana to do anything. I respect her opinions and will go with anything she wants.

Ahana is the shy one in the family?

Yes. The problem is, all of us in the family -- her father, mother, her sister and her two bothers -- are all doing high-profile work. She can't be pushed to do anything.

She's the baby of the family.

Yeah. But baby needs to grow up. She wants to be behind the camera, which is fine by me. Whatever she does, I want her to be the best. The world has become so competitive. That's true specially of the film industry where [either] you are a success or a failure, nothing between the two extremes.

I feel Ahana won't be able to cope with the film industry. I don't want her to go through what Esha is going through. Every release of hers is a matter of life and death.

You've gone through it all

Not really. I never bothered. Only once in a while I'd worry about a favourite film's fortunes.

It's difficult for your daughters to equal their parents' success.

Very, very difficult. I don't see the same stress for children [of parents] in other professions. They're happy just being what they want to be. If I was an interior designer my daughters wouldn't have to go through this ordeal.

Kids [of parents] in other professions do anything -- join their father's business, study   architecture, whatever. My daughters don't have it that easy.

Esha is still not comfortable doing some of the things she has to. The clothes are so painfully minimal.

Did you find Ahana confident in the ad?

Absolutely. She was really confident. We're just holding water in our hands.

But Ahana dances with you on stage?

Yes. She is happy doing all that. But what she wants to do is direct a film. She has a script already. She's looking for a dialogue writer.

Without assisting anyone, she wants to go to the top of the mountain without climbing step by step. I know she'll find her level in life. But children of today face so much stress, especially in the film industry.

We had it so much easier.