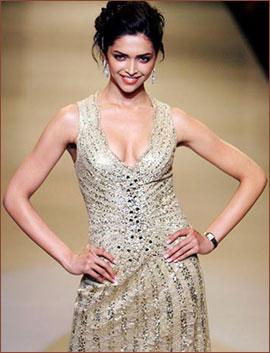 D
eepika Padukone will play a bar dancer in
Happy New Year,
and she's going all out with the
latkas
and the
jhatkas.
She will also try on a Marathi accent accent. That shouldn't be too tough for the actress, since she has spent more time in Mumbai than in her hometown in Bangalore.
Says a source from the project, "Farah (
Khan, director
) has planned a couple of terrific dances for Deepika. Raw and real, like they are performed at beer bars. There will be dancing to old hit songs by Lata Mangeshkar and Asha Bhosle."
The accent, we are told, would be
understated.
Says the source, "Farah doesn't want a broad accent like
Chennai Express
. If you see Tabu in
Chandni Bar,
she was normal. Deepika will be Maharashtrian with am identifiable but subtle accent."
Deepika, meanwhile, is mysterious about her new film. "Wait and see what the role has in store. It's too early to reveal details."
"The accent in
Chennai Express
was a huge problem. Initially, I just couldn't get it right. The first few days of shooting was a nightmare. One day, I went home and cried my heart out. I thought I wouldn't be able to do the accent. The very next day, I went back and the accent just fell into place, I don't know how or why. It was a miracle!" she exclaims.
Happy New Year also stars Shah Rukh Khan, Abhishek Bachchan, Boman Irani and Sonu Sood.