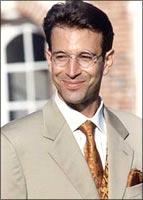 The life of murdered Wall Street Journal correspondent Daniel Pearl (right) is the subject of two Hollywood movies in the pipeline.
Pearl was kidnapped in Karachi in January 2002 and beheaded by a terrorist group that called itself The National Movement for the Restoration of Pakistani Sovereignty.
The first movie is based on French author Bernard-Henri Levy's book Who Killed Dani+el Pearl? in which Levy describes his investigations in Pakistan that lead him to conclude that Pearl was actually killed because he uncovered a nexus between the Pakistani Inter Service Intelligence, ISI, agency and Al Qaeda.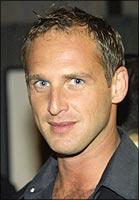 Produced by Beacon Pictures and directed by Kip Willams, the as-yet-untitled movie will star Josh Lucas (left) as Pearl, reports the movie trade magazine Variety.

Pearl's

character has been fictionalised and Levy has been changed into an American television presenter who gets his hands dirty looking for an answer to why Pearl was killed.

The reason for the fictionalisation is that the movie-makers did not want a clash with the other film being made on Pearl's life, based on the book by his widow Marianne Pearl, A Mighty Heart.

Brad Pitt has bought the rights to that movie, according to The New York Times.

Also see:
Judea Pearl on his son's murder
The good die young: The Daniel Pearl I knew
Daniel Pearl got over-intrusive: Musharraf
Complete Coverage: Daniel Pearl's Murder