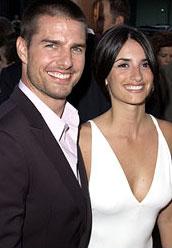 They just broke up after a three-year relationship. And they were just seen together in Berlin. What gives, Tom Cruise and Penelope Cruz?
People magazine recently mentioned that the couple announced they had parted ways on March 5. And on April 4, they were seen spending time together in Berlin.
Cruz flew down to Berlin from Morocco, where she is shooting for Sahara with Matthew McConaughey, to Berlin, where Cruise is location hunting for Mission Impossible: 3.
No, they are not back together, asserts Cruise's sister and representative Lee Anne DeVette. She told People, "Since he [Cruise] was in Germany and she had a couple of days off, she flew over to say hi. They hadn't seen each other since January."
As an aside, Cruz apparently adopted a kitten in Morocco. She and Cruise will be seen together more often, says DeVette. "They are good friends, and they'll be seeing a lot of each other. People should get used to it."
Cruise will soon head for the US, where he will promote Collateral, and then start production for Elizabethtown, which he is coproducing with director Cameron Crowe.