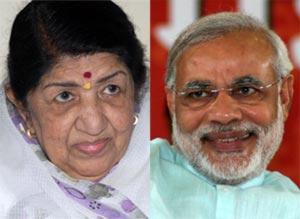 Lata Mangeshkar and Amitabh Bachchan are among those who have been invited to Prime Minister designate Narendra Modi's swearing-in ceremony on May 26 in Delhi.
While the Big B would be attending the ceremony, Lataji has regretfully turned the invitation down.
Says a member of the Mangeshkar family, "Latadidi is overjoyed at Modiji's victory. It is, in many ways, the triumph of the common man, and Didi identifies with the saga of a soul from the soil reaching the highest pinnacle of success. It reminds her of her own journey. She would have loved to attend the swearing-in but she's a little under-the-weather. To travel to Delhi's heat and then sit in the open air for the ceremony would be strenuous for her."
Apparently Modiji, a die-hard fan of the singer, has graciously accepted Lataji's 'RSVP' on the condition that she visit Gujarat as his personal guest at her earliest.
"I am proud to say I supported his leadership qualities," says Lataji. "Full credit goes to the aam junta of India, the common man for bringing this amazing change of governance in the country. Now it's up to Modiji's government to deliver. The country has voted for change. Now let's see what happens."
Incidentally, sources close to Lataji say Modi was keen that she contest the Lok Sabha elections from Gujarat.
Lataji neither denies nor confirms this rumour.
She does admit that there was some persuasion for her to contest the elections. "But I had absolutely no interest in politics. I am just happy that the country has voted for change."