A writer approaches a director with a script.
Writer: Sirji, I have an original story idea.
Director: Kya baat hai! Sunao, sunao (Really? Let's hear it).
Writer: My story is like a three-in-one music system, Sirji. It has action, romance and comedy.
The writer then shows the director some dummy one-liners he has penned for the film's key protagonists, which explain their importance in the film.
Hero: Kutte! Kameene! Main tera khoon pee jaonga. On second thoughts, pehle tum apna AIDS test karvao.
Second hero: Main tumhare liye Mars se taare tod laaonga. By the way, wahan ka plane fare kitna hoga?
Heroine: Main tumhare liye apna saara ghar-baar chhod doongi. Issi khushi mein McDonald's chalein? Subah se meri sauteli maa ne breakfast nahin diya. *sniff*
Villain: Mumbai ka king kaun? King Kong! Apun ka naam hai Kong. King Kong. Saara Mumbai apun ke naam pe chhatri maafik hilta hai.
Director: Wah! What masala! You are a genius. You are indigenous. This will be the biggest blockbuster of 2004.
Writer: Phikar not Sirji, main hoon na!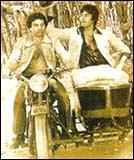 PS: The above account is an 'inspired' concoction of a bunch of masala flicks.
That's the beauty of masala films. They inspire 'creative mischief' for the lack of a better word. You can bend, fold, twist and turn, but you simply can't challenge the logic of masala potboilers.
The idea is to entertain. No pretensions. No brains required. Sit back, breathe, see what you like or like what you see and unwind.
Let's face it, there are times we all watch the most ordinary films just for the heck of it. Sometimes because there is nothing better to do. And sometimes you actually dig those three hours of chatpata fare.
Films would be a boring, one-dimensional medium if filmmakers didn't hit on the concept of bhelpuri scripts.
As much as one enjoys memorable classics and realistic, smart cinema, junk films are just as healthy.
What is a masala potboiler? Loud, even corny, it always has catchy dialogues, dramatic twists, actors playing to the gallery, chartbusting music, cabaret or item numbers, death-defying action, rib-tickling comedy, and a mother or sister, preferably a widow.
Imagine writing a masala flick. Imagine creating improbable situations in every scene!
Here's what you should know: most films that bear the masala tag are actually insipid clones with an overdose of sex, violence, crude humour, or juvenile jingoism.
Here's the real thing: a true masala film is the tops in the technical department as well as cinematography, imaginative choreography, and art design.
Statistics prove that some of the biggest hits in history are masala films: Ramesh Sippy's Sholay, considered a cult classic, is an outright masala film. Sholay is involuntarily responsible for lending respect to the potboiler genre.
Sholay was a trendsetter. It gave rise to many replicas — some good (Karma) and some bad (Keemat).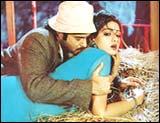 Sholay's Jai (Amitabh Bachchan) pretty much owes his career to masala flicks. Almost three-fourths of his biography is full of unabashed entertainers — Amar Akbar Anthony, Shaan, Mahaan, Yaarana, Ram Balram, Satte Pe Satta, Don, The Great Gambler, Coolie, Mard.
In Karma, director Subhash Ghai cleverly used his three heroes, Anil Kapoor, Jackie Shroff and Naseeruddin Shah, as a means to insert comic, romantic, and dramatic situations. The fourth hero, Dilip Kumar, instigated all the action.
Ghai's other blockbuster, Ram Lakhan, too was a delectable mix of all the prime ingredients.
Like the Big B, Anil Kapoor too wooed the elusive box-office gods with his masala recipes like Tezaab, Mr India, and Kishen Kanhaiya.
Even the usually sensible actor Naseeruddin Shah could not escape the lure of masala. For Rajiv Rai's Tridev, he donned a dhoti, jacket and cowboy hat for co-star Sonam to proclaim Oye oye. Tridev, which co-starred Sunny Deol, Jackie Shroff, Madhuri Dixit, and Sangeeta Bijlani, was a huge hit and still commands a considerable television and video audience.
Filmmaker Rakesh Roshan is all for pure entertainers. His Karan Arjun had all the elements of one. Ditto for Kaho Naa... Pyaar Hai and Koi... Mil Gaya. Karan Arjun and KMG, however, were slotted as reincarnation and science fiction dramas, respectively.
Other big grossers like Aankhen, Baazigar, Main Khiladi Tu Anari, Raja Hindustani and Gadar: Ek Prem Katha are birds of the same feather.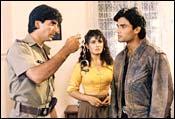 Critics and the audience rarely share the same opinion about films. So even as reviewers slammed Mohra as a mindless exercise in filmmaking, the mast-mast film with its share of raging he-men, villainous Gibrans and Tysons, wet sari-clad heroines, Paresh Rawal's locker-room humour, and peppy music went on to become a success.
Later that year came Hum Aapke Hain Koun..! The musical family drama dulled the masala slot to a large extent. Suddenly, family values, weddings, brides and grooms came to the forefront.
After the Hum Aapke Hain Koun..! invasion, masala films began to be looked down upon as frivolous, meaningless cinema. But hello! when were these films expected to be a lesson in moral education anyway?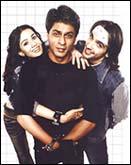 Shah Rukh Khan has found success and failure with masala films. On the one hand there was Baazigar and Karan Arjun. On the other, there was Phir Bhi Dil Hai Hindustani and Asoka — both his home productions that didn't work. PBDHH was said to be a no-holds-barred entertainer. But Asoka was a historical piece given stereotypical Bollywood treatment.
Now, choreographer Farah Khan's directorial debut promises to change it all. At least the promos claim that once in a while comes a film that has it all. And Main Hoon Na is said to be that one movie.
We will know how true that is when the Shah Rukh Khan-starrer hits the screens on April 30.
Meanwhile, why don't you tell me what your favourite masala films are?