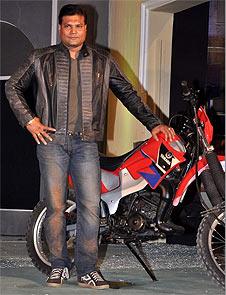 Actor Dayanand Shetty of CID fame to act in Rohit Shetty's Singham 2 along with Ajay Devgn.

Dayanand Shetty, popularly know as Daya, has bagged a part in Rohit Shetty forthcoming film Singham 2, starring Ajay Devgn and Kareena Kapoor.

Daya's participation in the television adventure reality show Kathron Ki Khiladi helped him to bag the role in Singham 2. Rohit Shetty was the host of the show.

The actor says he got a call from Rohit Shetty's office after returning from the shooting of Kathron Ki Khiladi in Cape Town.

"I am really excited as I will be doing some action scenes. I am playing a cop along with Ajay Devgn."

The macho Daya who loves breaking down doors in the long-running series CID says, "Rohit must have seen some potential in me and felt that I suited the role to cast me in the film."

So how will he juggle his schedules for CID and the film?

"Today
is my fifth day. I will be shooting for 40 days for the film. As and when I get time from the shooting of
Singham 2
, I will shoot for
CID.
"If I am shooting for the film during the day, then I will shoot for TV in the evening. As of now, I am managing both well. I will not allow
CID
to suffer," says Daya, who seems to have worked it all out.
Shooting for a film, he says, is "obviously different because films are made on a larger scale and are shot at a more relaxed pace than TV shows."
And, of course, there is the bonus of working with a big actor.
"To work with an actor like Ajay Devgn is a dream-come-true. He is a chilled out person and speaks little -- like me," he smiles.
In
Khatron Ke Khiladi
Daya competes with a bunch of actors under the guidance of host Rohit Shetty.
"I didn't have any phobia as such before the show, but I did know swimming. I did a few water stunts which I had not done before. In totality it was a very good experience" says Daya about
KKK
, which gets participants to do some daring and unpalatable stunts.