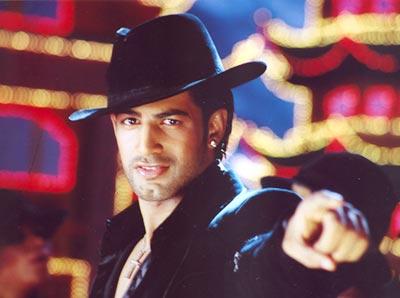 Saturday night, the lobby of the Hyatt in Mumbai looked almost like a battleground. You didn't need to know where the ballroom was; just follow the line of cameras jostling to get in. The event? 36 China Town's music launch.
In keeping with the name of the film, four attractive Oriental beauties greeted you at the door, fans in hand and delectable smiles in place.
The function was to begin at 8.30 pm. But save producer Subhash Ghai, the stars weren't around. At exactly 10:05, the gang trooped in together. How they managed that in Mumbai's traffic is a matter of wonder. Unless they assembled somewhere like boy scouts and entered in a pack.

Kareena Kapoor shone out among them. The fair actress looked simply dazzling in a black outfit. Akshaye Khanna was dressed casually, while Shahid Kapoor looked neat. Upen Patel, who got the loudest applause, was dressed in a coat without a vest. Himesh Reshammiya wore his trademark music-video ensemble of jeans and jacket, with the ever-present baseball cap.

Subhash Ghai praised directors Abbas-Mastan, taking a gentle jab at the stars for coming late. The showman was in fine form and looked young for a man making movies for 28 years.

Poor Shahid Kapoor. One of the speakers referred to him as Shahida. Another speaker called him Shahid Khan. Only when lyricist Sameer spoke did he get his name right. When Shahid spoke he mentioned this, "My good friends are calling me Shahida and Shahid Khan, thank you Sameerji for getting my name right. For a moment there I was suffering from an identity crisis."

Somebody has to tell music director Reshammiya that variety is the spice of life. The same person should also tell him good music does not necessarily mean loud music. The first song, Ashiqui, which he sings himself, sounds exactly like all the other songs he has sung earlier. We know he can stretch his vocal chords for long. But this does not mean you stretch it for every song. 24x7 sounds like a stuck record of the LP days. It keeps repeating the same line. The only person likely to enjoy this song must be Dr Prannoy Roy, as it sounds like a theme for his news channel, NDTV 24x7. 

Dil tumhare bina is again sung by Himesh himself. Has he become a music director just to inflict his voice on us? Or does he sing to save the producer's money? Jab Kabhi, thankfully, is sung by Kunal Ganjawala and Alka Yagnik. Both their voices sound lovely in spite of the music.
DJs like to remix successful chartbusters, but in case no one likes this soundtrack, Reshammiya's thrown in a couple of remixes. Noting my distaste, a young boy, at least 20 years younger sitting next to me, gave me a dirty look before declaring, "The younger generation likes Himesh Reshammiya."

Himesh and Alka lisped a song together. Then the popular model Upen Patel came onstage with a troupe of girls and boys. The audience seemed to love this guy. My young neighbour said, "Everyone loves him because he is courteous and very sweet." Either that or the audience loved the glimpses Patel gave of his bare chest.
My evening ended on a great note. Outside the hotel, Kareena strode right past me. And I stared dreamily after her. What a stunner!
Text: A Ganesh Nadar