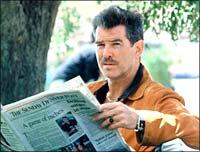 Pierce Brosnan, who gave up playing James Bond just the other year, walks into a suite at the Drake Hotel in New York, nursing a tall cup of cappuccino. He looks much smaller than the Bond he has played in four monster hit movies, including Die Another Day.
And he speaks even softer than you have heard in a few non-James Bond films such as The Thomas Crown Affair.

No question worries him. Asked how he has been playing smooth womaniser in many films, he chuckles, with one finger working on the beard. "In real life, you cannot have a more normal, happy person," he says, now grinning wildly. "I go home to my wife and children night after night. So when I get a chance to play a wild character in films, I just grab it."

He also points out he is not yet done with guns. He plays an aging professional killer in the dark comedy The Matador, a small film compared to the James Bond movies.


The film, which rolled out in New York and Los Angeles on Friday and will continue to add more cities and screens in the coming weeks, has fetched him some of the best reviews of his career.

In one of the hilarious scenes, we see Brosnan walking towards a hotel swimming pool clad in just his underwear. He walks through the lobby of the luxurious hotel, with a drink in his hand, and not a hint of embarrassment.

The scene is certainly far different from the ones we are used to in the Bond films where he was surrounded by some of the most glamorous women in showbiz.

Here, his scene is also expected to create some pathos.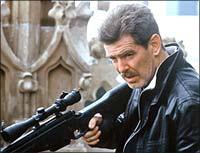 "I loved playing this character [of a failing hit man called Julian]," he says. "Richard [Shepard, the director] truly gave me a gift, a real jewel at just the right time in life, I guess," adds the 52-year-old actor. "The freedom that he has allowed me has been invigorating. It has been a romp."

Shepard, whose three previous films including Oxygen each cost about $250,000, was preparing to make Matador on a similar budget for video distribution when his agent sent the script to Brosnan who has set up a studio in Ireland to make offbeat films such as Evelyn, released two years ago.
                                                                        
Brosnan, whose character's interaction with a rather timid sales person (Greg Kinear) following a sudden encounter in Mexico City leads to tumultuous and crazy events, fell in love with the script even before he had completely read it.
"I laughed reading it," he says. "It was intelligently written and offered terrific insights into human beings, especially those who seem to be leading ordinary lives."

Shepard heard from Brosnan just in a few days after he had received the script. The actor not only said he wanted to be a part of the film, but he also wanted to be one of its producers.

"He called me and said, he liked the script," Shepard says. "He did not just say he wanted to be in the film, he actually talked about what he liked in the script and I immediately felt comfortable and reassured that he would not want changes in the script."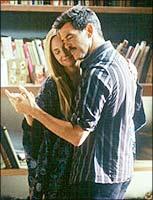 Of course, the film's budget soared to $10 million. Even then, it was peanuts compared to the $100-$120 million spent on each of the Bond movies in recent years. Brosnan, who gets about $10 million for such non-Bond films as The Thomas Crown Affair, worked for a fraction of his standard fee.

The director was more than happy that Brosnan completely trusted the script. "Had he asked for major changes, I was prepared to say 'no,' " Shepard says.

"Julian [Brosnan's character] is the darkest version of a man like Bond," Shepard says. "It is the opposite end of the smooth and perfect superhero. Julian is a man who has no one; he is lonely, sad and a real mess."

When he read the script, Brosnan felt it had the stuff that "makes an actor get out of bed in the morning, wanting to push himself as far and as fast as he can. And, at night, he goes to sleep dreaming of the character and what the next day will bring."

Though he is in New York to promote The Matador, some journalists cannot but help asking him about the James Bond films. What does he think of Daniel Craig, the new James Bond?

"He is terrific," Brosnan says of the young actor who plays a flamboyant Mossad agent in Stephen Spielberg's controversial film Munich. "He is a very good actor, too."

Before someone else can get him to speak more on Bond, Brosnan quietly asserts: "Listen, James Bond is the past. Let us talk about this film."

Does The Matador connect in anyway with Evelyn?

"Evelyn was about a man fighting to have his children back," Brosnan says. "And here, Julian is a man who is rudderless, looking for love, and in a way fighting for his soul. I feel both the films are about the same thing."

But Evelyn, which got plenty of attention at the Toronto International Film Festival, was a non-event in America. Matador, which also received a strong welcome at TIFF, is creating quite a buzz, and could become an art-house hit.

Brosnan says even before he started playing Bond, he had been looking for offbeat parts for over a decade. He played a British agent who infiltrates the secret society of thugees (dacoits) in India in Ismail Merchant's The Deceivers released in 1988. And he has played character roles in such films as Mrs Doubtfire.

"I am basically an actor," Brosnan, who has acted in 40 films and many Remington Steele television episodes, says with intensity, even while looking for a place to throw away the cappuccino cup.
"And I have always been one."