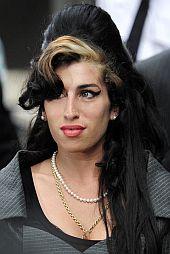 British singer Amy Winehouse has been found dead at her home in north London, Sky News reported on Saturday.

Police said they had found the body of the 27-year-old woman
at a flat in Camden Square, north London, after being called by
ambulance services around 1500 GMT, the report added.

They said they were treating the death as 'unexplained.' A spokesman for the singer could not immediately confirm the details.
Her 2006 album, Back to Black, led to six Grammy Award nominations and five wins, tying the record for the most wins by a female artist in a single night, and made Winehouse the first British singer to win five Grammys, including three of the "Big Four": Best New Artist, Record of the Year and Song of the Year.
Winehouse has been credited as being an influence in the rise in popularity of female musicians and soul music, and also revitalising British music. Winehouse's distinctive style has been the muse for many fashion designers.
The singer's problems with drug and alcohol abuse, as well as self-destructive behaviour, were regular tabloid news.
She and her former husband, Blake Fielder-Civil, were plagued by legal troubles that left him serving prison time. In 2008, Winehouse faced a series of health complications that threatened both her career and her life.
Image: Amy Winehouse