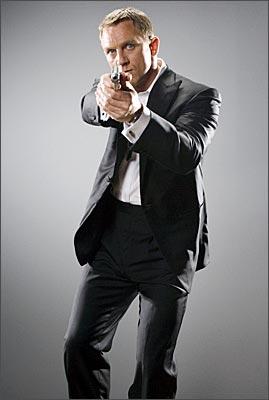 Britain's national postal service, Royal Mail, has unveiled a set of stamps that feature the covers of Ian Fleming's Bond novels.
The stamps will go on sale from 8 January to mark 100 years of the author's birth in 1908.
Six of the 14 Bond novels written by Fleming will be depicted on the stamps, which are Casino Royale, Dr No, Goldfinger, Diamonds Are Forever, For Your Eyes Only, and From Russia With Love.
"It is a privilege for Ian Fleming's novels to be celebrated by the Royal Mail special stamps' programme. James Bond once again in the service of his queen and country: the first of many new adventures in 2008," the Telegraph quoted Corinne Turner of Ian Fleming Publications as saying.
Julietta Edgar, Head of Royal Mail Special Stamps, said: "Fictional heroes don't come much more famous than James Bond, so it's entirely appropriate that we start our 2008 special stamp programme by honouring his creator, Ian Fleming."
Fans of the suave agent will also get to read a new James Bond novel titled 'Devil May Care', written by Sebastian Faulks, next year.
Photograph: Getty Images