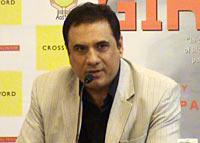 The Crossword book shop at Kemp's corner in south Mumbai was the venue of an unusual book launch on February 21.

Actor Boman Irani read excerpts from the book Not Like Most Young Girls, a compilation of real-life stories of sex workers and transgenders, interviewed by 18 student writers.

The book has been brought out by Aastha Parivaar, an organisation that works with sex workers, in association with Heroes Project.

The writers -- students of Wilson college, St Xavier's college and TISS -- were present at the launch and spoke about their experiences in interacting with their subjects. They said it was a heart-wrenching experience, and they were surprised how open the sex workers were about their very difficult and often violent lives.

Boman Irani said he was humbled in the presence of people who worked so hard to better the lives of a marginalised section of society. Aastha is an organisation of sex workers for sex workers and their families. They pay particular attention to old and HIV-positive members and their children.
Irani read an excerpt from one of the 18 stories in which a young girl is whipped and raped by a man to initiate her into the profession. Once in it, she continues with it even after she gets married as she has three children to look after.
Many transgenders who are part of Aastha were also present. Those who bought the book got it autographed by Irani, who said that for him the day was well spent, and told the organisers to use him more often.
He criticised the media for not giving enough publicity to such events and concentrating instead on page 3 gossip and movie events.
The president of Aastha, Vasavi Chilka said the proceeds of the book would go to further the activities of Aastha.
Photograh: Afsar Dayatar