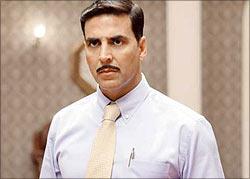 The Maharashtra state government may soon levy a 12.36 percent service tax to film and television actors, effective from the end of January.

Actors will then have to pay tax on their earnings from films, television shows and endorsements. This tax will be over and above the income tax paid by actors.

Expressing his concern, Mukesh Bhatt -- president of the Film and Television Producers Guild of India (FTPGI) -- feels the pressure will be on producers, who are already burdened with high production costs and theatre rentals.
"I am extremely saddened with this decision by the government. We can't take this burden anymore. The war is still on and we are looking at a negotiation with the government. The government has no feelings towards the Indian film fraternity."

He added that instead of celebrating 100 years of Indian cinema, the government was going against the industry by levying extra taxes. "Indian cinema is completing 100 years and we should be celebrating it. But how can one celebrate with this burden and the insensitivity of the government towards the film industry?" Bhatt asked.

FTPGI has decided not to allow the release of any Hindi film if the 12.36 percent service tax is not called off.

The film that are likely to be affected by this are Bejoy Nambiar's David (releasing on February 1) and Akshay Kumar's Special Chabbis (releasing on February 8).

Commenting on the issue, Akshay said, "Our industry pays a lot of tax. This should not happen but I am sure the government knows best. If the proposed strike happens, it will tell the government that whatever's happening is not right."

The actor felt that high taxes was the reason why independent producers have stopped making films. "A lot of films are closing down because of high tax rates. Many independent producers have also stopped making films. Now, only big producers and corporate houses dare to make films. The media should highlight this, as it's not right, especially for producers."

Director Bejoy Nambiar is also against the new service tax. "This will not help us in any way, it will only increase our burden. Directors like me who make films on limited budgets will be highly affected."

As for the release of his film, David, Bejoy says he's getting ready for the release as per schedule. "There is no change in plans as yet. We will take a call later, if the industry decides to go on strike."