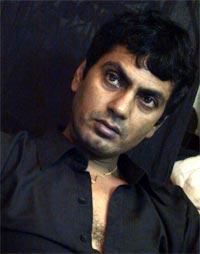 Actor Nawazuddin Siddiqui has become the toast of Cannes, after his films --
Gangs Of Wasseypur
and
Miss Lovely
-- were screened at the film festival. International filmmakers are now showing interest in his work.
Nawazuddin is also dazed by the Cannes experience. "It is all so new to me, like a dream. Back home, I am still struggling to establish myself in the Hindi film industry. The kind of cinema I do doesn't get much of an audience at home. Hopefully, that will change after
Gangs Of Wasseypur
."
The six-hour two-part
Gangs Of Wasseypur
was shown as one film at Cannes.
"It was an experience I've never gone through, and I'll never forget," Nawazuddin continues. "Back home, they don't take actors like me seriously. In Bollywood, I am not a star. The focus is on people who sell. Here in Cannes, the audience that came to see
Wasseypur
was genuinely interested in watching a different kind of film from India. They watched both the parts of
Gangs Of Wasseypur 
and then they asked so many important questions about the film. I felt my career was worth all the struggle I've been through."
An even bigger ovation awaited Nawazuddin when Ashim Ahluwalia's Miss Lovely was screened.
"The film doesn't have any background music," he says. "It is set in the Mumbai film industry in the 1970s. Yet, the audiences in Cannes have connected with the film. All of us from the film were flooded with questions."