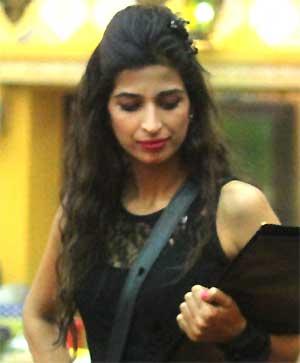 Priyanka Jagga is beoming the most disliked person in the Bigg Boss 10 house, notes Divya Nair.
Highlights
Nominated housemates get a day-long cycling task
New captaincy task announced
Birthday girl Bani is upset with everyone
Whats garam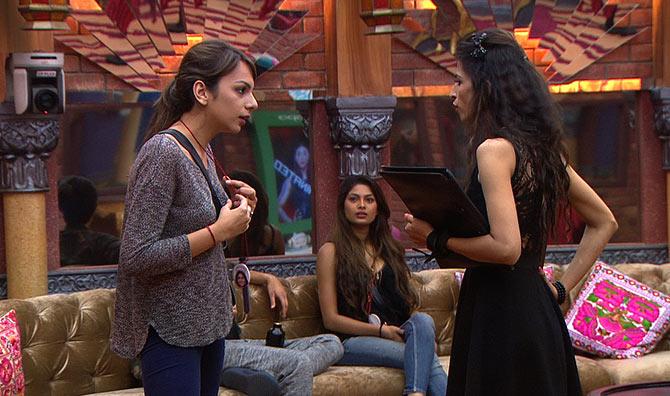 Cracks in the relationships have begun to surface as people realise that this game needs you to show off your individual prowess.
The four nominated housemates are given a new task -- they have to take turns to cycle through the day and night so that the house gets electricity and water.
Priyanka Jagga is asked to ensure things run smooth.
Meanwhile, the housemates are given a new task to compete for the captaincy.
Each housemate will carry a test tube filled with solution in some other housemate's name.
Every time the gong goes off, one housemate has to empty her/his vial in a common bowl, thus eliminating the chance of that housemate becoming the captain.
There are 8 contenders and after 7 gongs whoever remains becomes captain.
Swami Om plays his by now tiresome emotional card and begs Sahil not to empty his test tube.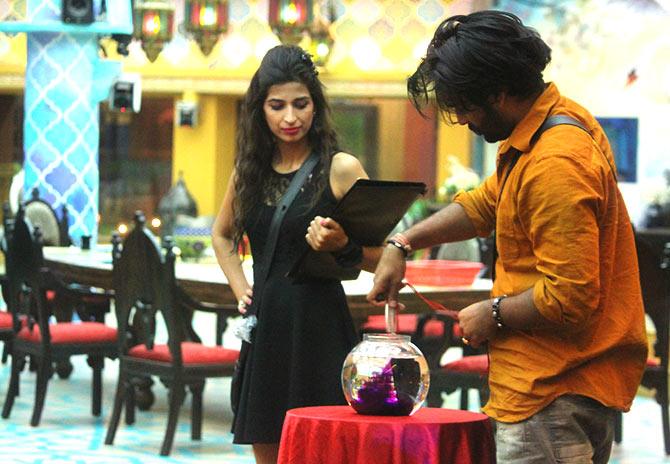 The first gong goes off and Manveer empties Sahil's test tube.
After picking on Mona, Priyanka now targets Nitibha.
She asks Manu to empty Nitibha's test tube in the next round.
Nitibha confronts Priyanka and tells her not to influence Manu.
Next, Priyanka upsets Manu, apparently kissing him on his shoulder. Yuck!
Manu calls her a chichori and asks her to stay away from him for the rest of the show.
The gong goes off and Manu empties Nitibha's tube. Talk of not being influenced by Priyanka!
Manu and Manveer then try to influence Mona to empty Gaurav's test tube when the 7th gong goes off so Manu can stay in the reckoning till the end and maybe become the captain.
Whats thanda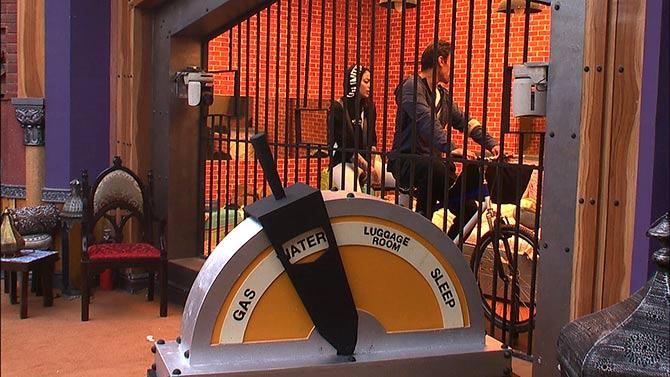 The jailed housemates are clearly having a tough time and the task is draining any pending enthusiasm.
At night, the electricity goes off, but the four jailed inmates have to cycle away to bring the power on and keep it running.
Birthday girl Bani is very upset at this and complains to Rahul Dev who tries unsuccessfully to instill some sense into her. Bani is, of course, in no mood to listen and refuses to do the task any further.
MUST SEE: All the Bigg Boss 10 action!