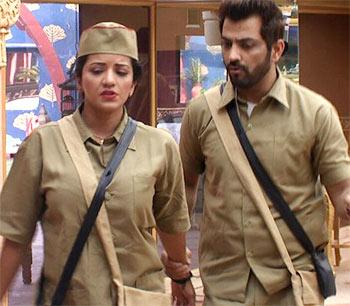 In this bad game of survival, choosing love would mean burning your fingers.
And turns out, only Mona had the heart to pick love over greed, says Divya Nair.
Highlights
Nomination task is announced.
Mona nominates herself for Manu.
Manu, Bani and Lopa are safe.
What's garam
Mona risks for Manu
VIDEO: Mona and Lopa break down during the task.
Wasn't it obvious that Mona would risk anything for Manu?
Once again the Bhojpuri actor put herself in danger at the cost of securing Manu's parcel.
This time for a change, Manu tried his best to convince Mona from making the decision, but in vain.
Manu, Lopa, Bani save themselves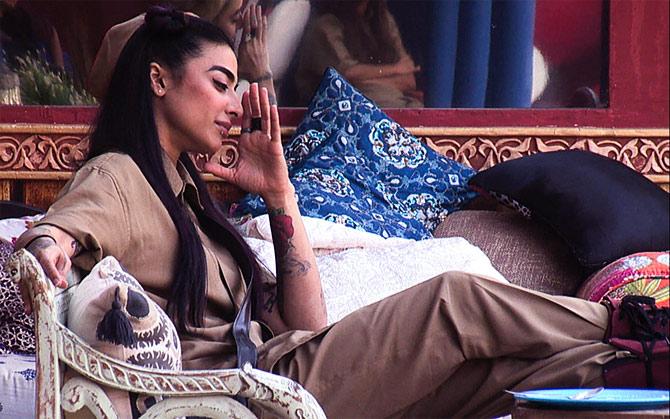 IMAGE: Bani during the task.
That Manu and Bani would save themselves was pretty clear.
Lopa wanted to buy time so that she could come up with a valid defence.
She wanted to know what Manu and Bani would do, so she could do likewise.
First, she tried finding out if Bani would let her know the contents of the parcel. When she failed to convince everyone to nominate themselves, so SHE could secure her parcel, she played her trump card.
She opted to go last and have the advantage.
Reminded me of the silly games we played in school!
What's thanda
Lopa's change of heart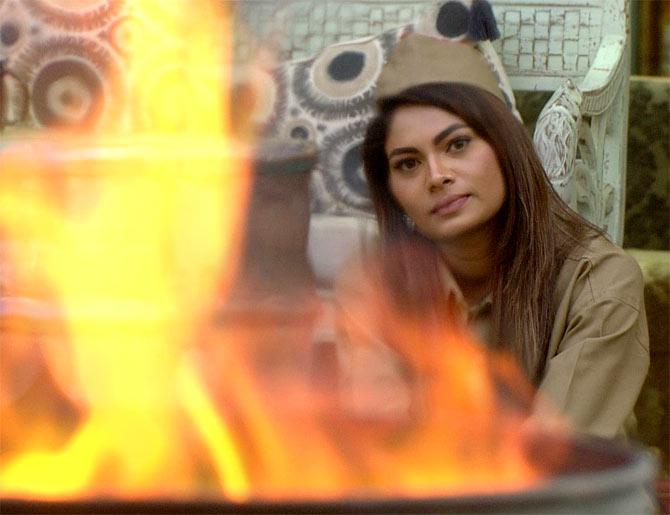 IMAGE: Was she selfish or selfless?
Lopa, the purpose of the game was very clear -- selfless or selfish?
Neither Bani or Manu had any guilt because they made it clear it was a game.
If you really had the heart of gold that you always claim to -- and since you anyway read your letter illegally, an extra benefit only you had -- you could have bravely nominated yourself and surprised Mona.
No point faking your regret after you have made a selfish decision.