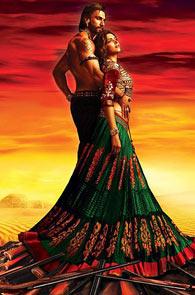 Reports of Sanjay Leela Bhansali's sets for his film, Ram Leela, at Mumbai's Film City being swept away by the torrential rains are false.

The director, who is shooting the entire film on location for the first time, is currently shooting for the film on the sets.

The picture of the broken-down sets published in a tabloid recently is apparently misleading.

"That's a shot of the part of the set which we have dismantled. We
are shooting on another set . We did have to stop the shooting for a few days because of the torrential rains as a precautionary measure to ensure none of my actors slips or gets hurt in the rain but nothing was damaged," says a member of the crew.
One hears the film's stars Ranveer Singh and Deepika Padukone have to make immediate and difficult adjustments in their date diaries to make up for the lost time.
The most immediately affected filmmaker is Shaad Ali whose
Kill Dill
with Ranveer Singh awaits clearance from
Ram Leela.
Looks like Shaad would have to wait a little longer.