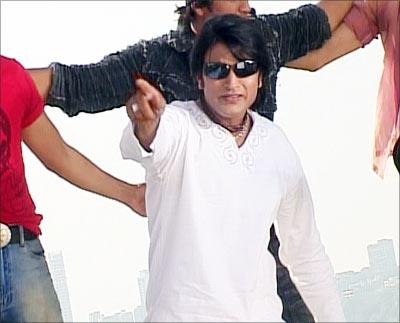 The shooting of the film Control is on in full swing and currently a song is being picturised on Mumbai's picturesque Marine Drive.
Though the film lacks star power, the interest lies in the subject. It is a movie about Ravindra Kantrole aka the beer man who had reportedly terrorized Mumbai a few months back.
Kantrole was later on released on bail.
The police alleged that he had killed a dozen odd pavement dwellers after befriending them and treating them to beer. Hence the name, Beerman.  
The film, written from his perspective, talks about the issue of drugs, slowly gaining a foothold among the city's youths.
The song currently being picturised too has this tapori element and the lyric goes like Yeh Hai Mumbai Mere Baap Ki.
And while this is a unique story in itself, another astonishing story is that of lead hero Waqar Khan, who plays Kontrolu in the film. Its a dream story for Waqar, who started off as an auto-rickshaw driver.
He has worked successfully in Bhojpuri cinema, and this will be his first Hindi release. "I play Ravindra Kontrolu in the film and the film talks about drug issues with undertones of love element too" says Khan.
The story is on the lines of a mafia war, where Waqar Khan falls in love with the daughter of a drug mafia. Almost all the faces in the film are unknown, but the curiousity about the real-life subject might help the film.
Text: Girish Rao