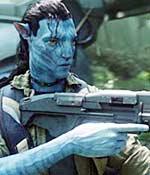 James Cameron, the man behind the unstoppable sci-fi hit Avatar, and Sandra Bullock, the co-producer and star of The Blind Side made history on Sunday evening.
While Avatar flew beyond expectations and reached the $1 billion milestone worldwide, the feel-good Bullock film -- which cost one tenth of the $300 million producing cost of Avatar -- passed the $200 million mark in North America. This is the first such milestone for the actress. It is headed for a $230 million total gross in North America. The football-themed drama is about a white family which encourages a young black man to get out of the harm's way and realise his potential.
Movie experts expected Avatar to reach the $1 billion mark but certainly not in just three weeks. Even hugely successful films like The Dark Knight, which cost over $200 million, took over three months to recover the basic production cost.
Avatar has rushed past the biggest hit of 2009, Harry Potter and Half-Blood Prince, which grossed a formidable $930 million worldwide.
Repeat business for Avatar is so strong that distributor 20th Century Fox believes that many are seeing it for the third or fourth time.
A Fox spokesperson declared the film is like an unstoppable 'freight train.' Except that the film is not creating any wreckage. It made $68 million over the weekend in North America and a mammoth $132 million abroad. Avatar is expected to get major Oscar nominations, as well as in the the technical departments.
Its total gross reached to $352 million in North America, and $670 million in foreign territories by Sunday evening, according to Fox. The film opened on Friday in China, which is emerging as a major territory for Hollywood blockbusters like 2012.
Avatar ranks number four among the top global grossers of all time, behind Cameron's Titanic ($1.84 billion), Peter Jackson's The Lord of the Rings: The Return of the King ($1.12 billion) and Gore Verbinski's The Pirates of the Caribbean: Dead Man's Chest ($1.07 billion). By next weekend, it would be at second spot. The fifth film to gross $1 billion is Christopher Nolan's The Dark Knight. 
When the ancillary income -- Blu-ray Discs and DVD, TV and Cable TV --  is factored it, Avatar could make more than $600 million in profit.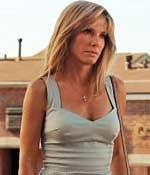 Sandra Bullock, who had remained luckless for several years, suddenly bounced back last year. Three of her 2009 releases grossed over $500 million in America. Of these, The Proposal grossed about $164 million in North America (and over $140 million abroad) but her other film, All About Steve, was a flop, earning less than $70 million worldwide. But it will recover its investment. Like in the case of the other durable actor Clint Eastwood, Bullock's movies are also made in the moderate range of $35-$50 million.
American theatre owners voted 45-year-old actress the star of the year over the weekend -- she's the fourth woman to receive that designation in the 77-year history of the award. Johnny Depp was second on the list. Other women voted as top money makers include Shirley Temple, Betty Grable, Elizabeth Taylor, Doris Day and Julie Andrews.
There may be more honours on the way. Bullock has got two Golden Globe nominations already and is likely to get an Oscar nomination for her work in The Blind Side.
There were a handful of other hits too.
Sherlock Holmes and Squeakquel are both heading for a $200 million gross, with much more to come from the international markets.
It's Complicated has been appealing to older women, and is holding steady. It is expected to end its American run with $100 million. The comedy, starring Meryl Streep, Steve Martin, and Alec Baldwin, is about a divorced couple finding romance once again.
Also holding steady is Up In The Air, starring George Clooney. It registered $11.4 million from just 1,895 locations in America. The tragicomedy about an ever travelling downsizing corporate executive is yet to open abroad. With its $45 million cume in North America, it is about to take over the much discussed Precious whose box office has considerably slowed down in recent weeks.
Up in the Air is the third hit in a row for its director Jason Riteman, and will be adding over a 100 theatres in America next week taking the count to 2,000, Paramount says. If it secures major Oscar nominations, Up in the Air could be showing at 2,500 locations.