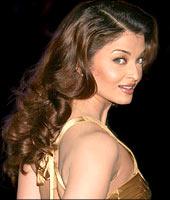 London-based producer Dr J Murli Manohar, who produced last year's Ramji Londonwale and is behind the in production real to reel tale of spousal abuse Provoked, wants to make a film on Congress president Sonia Gandhi.

"We have bought the rights to [journalist] Rashid Kidwai's biography of Sonia Gandhi. The script is being readied," reveals the non-resident Indian ear, nose and throat surgeon who has produced 29 movies so far.

"Jagmohan Mundhra was supposed to direct this film before Provoked. But we thought doing Provoked would bring Jag [Mundhra] to a new level in his career and prepare audiences to see him handle a subject as sensitive and epic as Sonia Gandhi," he adds.

Which brings us to the inevitable question: Who will play the lead role in the movie?

"Mundhra is of the opinion that we should have an authentic international face to play Sonia. He has spoken to Carla Gugino, the actress from Spy Kids 2. He has also spoken to Preity Zinta in India," says Dr Manohar.

But he wants his perennial favourite Aishwarya Rai -- who starred in the producer's 1998 movie Jeans and plays the lead in Provoked -- to

play the United Progressive Alliance chairperson.

"We aren't looking at the politics of Sonia Gandhi. We want to make the film on the woman, not the politician. Jag wants the film to reflect a catch-line: 'She came for the love of her life. She stayed for the love of her land'," the NRI producer says.

Why Jagmohan Mundhra? "He has it in him. He is a very learned filmmaker," replies Dr Manohar. "And he knows how to control budgets. Lots of filmmakers are functional only with big budgets and big stars. Jag doesn't function that way. He knows the value of money. He had to make the films that he did because he wanted to be noticed in Hollywood."

Carl Austen, who has written Provoked, will script Sonia.

Dr Manohar says "various names are being thrown around" for the role of Rajiv Gandhi, Sonia's late husband and former prime minister of India.

"It would have to be an international name like Jimmi Mistry -- like how they did Gandhi with Ben Kingsley [in Richard Attenborough's classic]. We want this film to get optimum international attention," he adds.

Dr Manohar started his movie innings with Indian Summer in 1986.

"It had a complete British cast and crew. I made it in India and sold it worldwide. Earlier, when the Indian government had allowed the import of English language films into India, I brought around 200 English films to India," says the surgeon-turned-producer.

"I did Bloodstone with Rajnikanth, directed by Dwight Little, in 1988.  Then I went into production with Ashok Amritraj for Tropical Heat and Inferno. Then [I did] Jeans, which was a huge success in Tamil and Telugu, though not in Hindi," the NRI producer continues.

"In fact, Inferno was Madhavan's first feature film. Our association has continued ever since. I did a hit film called Minnale in Tamil with Maddy," he adds.

Dr Manohar has just completed a Tamil film, Thambi, with Madhavan.

"All I can say is Maddy has played a character whose ideology is a combination of Mahatma Gandhi and Subhas Chandra Bose. It will take his [Madhavan's] career to another level."

What about Provoked? "There's a lot of international interest in the film. I'm currently in Chennai with my director Jagmohan Mundhra finalising the background score with A R Rahman," Dr Manohar says.

"The theme [of spousal abuse] needed an intense support. Rahman takes the poignant tale to another level," he adds.