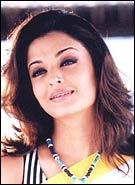 Sanjay Leela Bhansali might have put his period drama Bajirao Mastani on hold, but other filmmakers seem mighty eager to take on the epic mantle.
While Ketan Mehta's Rising (or Mangal Pandey, as it is called in Hindi) is on the way, Ashutosh Gowariker has already announced his plans of making Jodha-Akbar, based on the Mughal emperor's life, next.
As if there aren't enough historical figures to portray on film, two prominent directors want to make a film on legendary Rajput king Prithviraj Chauhan and his lady love, Samyukta.
Not only do Rajkumar Santoshi and Chandraprakash Dwivedi want to make the same epic, they both want to cast Aishwarya Rai as the heroine.
"Raj Santoshiji and I almost did Prithviraj-Samyukta. But then we zeroed in another subject called Saamna, which we're starting later this year," says Aishwarya. 
"But Prithviraj is very much on, though not necessarily with Rajji. Dr Chandraprakash Dwivedi wanted to make (a film on) the same subject. He had earlier offered me Pinjar. He's adamant to do Prithviraj Samyukta with me. I told him I was ethically committed to Raj Santoshi for the subject. He said, 'Dono karo (Do both)'. But why should two good filmmakers make the same film? The core personality of the historical figure gets diluted in the duplication."
Earlier, five films on freedom fighter Bhagat Singh were released at the same time, including Rajkumar Santoshi's The Legend Of Bhagat Singh and Guddu Dhanoa's 23rd March 1931 -- Shaheed.
"The whole idea gets lost in superficial comparisons," says Ash. "I've spoken to both (Santoshi and Dwivedi). We've decided that I'll be Samyukta for whoever makes the film first!"
"They both agreed only one of them would make the film. This was a settlement worked out amicably among three of us. Both Rajji and Chandraprakashji have done ample research and are ready to share their knowledge with each other."
Santoshi is currently busy with Family, featuring the Waqt pair of Amitabh Bachchan and Akshay Kumar. Then, his Saamna (with Ajay Devgan, Akshay Kumar, Nana Patekar and Ash) will go on the floors. After that he's doing another film with Devgan.
But Santoshi or Dwivedi, Ash wins both ways.