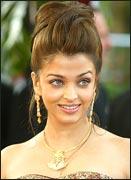 Aishwarya Rai had valid reasons to skip this year's Toronto International Film Festival.
She was shooting for Gurinder Chadha's Bride And Prejudice in London. Had she been in Toronto, she might have given the likes of  Meg Ryan, Nicole Kidman and Chloe Sevigny a bit of competition.
Last year, Lisa Ray, whose Bollywood/Hollywood, directed by Canada-based Deepa Mehta opened at the festival, received plenty of media attention.


| | |
| --- | --- |
| | Don't Miss! |
| | |
Ash Rai's sensual, pathos-filled performance as a young widow in Rituparno Ghosh's
Chokher Bali
,
A Passion Play
, received quite a bit of attention at the press screening. Some journalists were quite amused at some of the film's erotic situations, especially the sequence in which Rai tells her young married friend not to let her husband have rough sex.
A few scenes later, the friend (Raima Sen) is shocked to see similar bite marks on Rai.
The festival drew a number of Hollywood and British stars, including Denzel Washington, Nicolas Cage, Anthony Hopkins, Meg Ryan, Nicole Kidman and Alison Lohman. Not to forget Woody Harrelson who got some 2,000 people join him in an open air yoga session.
People talked about films dealing with violence among school children (Elephant), racial double-talk (The Human Stain) and infanticide (Mathrubhoomi: A Nation Without Women).
There was plenty of Oscar buzz, especially for Nicolas Cage's quirky performance in Ridley Scott's Matchstick Men. He played a conman forced to teach a few things to a teenage daughter he thought never existed.
Writer-director Sofia Coppola's Lost In Translation not only confirmed her status as a major new talent, it also confirmed talk about an Oscar-worthy performance by Bill Murray. 

People also talked a lot of sex.


Chole Sevigny said she did not know why people were making so much fuss about the sex scenes in the film
The Brown Bunny
. She has a nearly 10-minute long fellatio scene with Vincent Gallo, the actor and director of  the film.
Some journalists whispered it was the only interesting thing in the overblown, long-winded road movie that was slammed at Cannes. Its reputation was not redeemed much at Toronto, though just a handful of people walked out during its public screening
The movie was also in the news when director Gallo, deeply angered by a savage review by distinguished critic Roger Ebert, put a cancer curse on the journalist soon after Cannes. A few weeks later, Ebert was told he indeed has cancer.
The topic of sex followed Meg Ryan on her Toronto visit.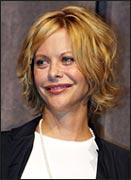 Ryan said she was tired of being asked about her girl-next-door-image and how she could do explicit scenes in Jane Campion's erotic thriller
In The Cut
.
Ryan, often reacting testily, said she took up In The Cut not because of the sex scenes but for an opportunity to work with Campion, whose work she had adored in The Piano.
For all its eroticism, suspense and fine acting, many reviewers felt In The Cut was a rather cold and dark movie, and lacked the power and humanity of The Piano to be an arthouse hit.
Kidman, who appeared nude on stage in the critically acclaimed play Blue Angel a few years ago, was originally signed to be the lead in the Campion film. But it went to Ryan, when Kidman dropped out of the film after her marriage to Tom Cruise ended.

Though Kidman felt she could not handle the complex and erotic part in Campion's film, which began shooting two years ago, she took up, within a year, the lead role in two complex films, The Human Stain and Dogville.
Both were shown at TIFF.
Click here for More Features