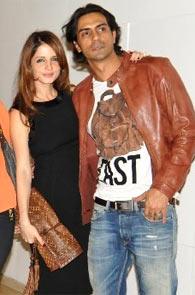 Even as Hrithik Roshan and Sussanne are going through a rough patch, having just announced their decision to go separate, actor Arjun Rampal finds himself in the midst of the mess.

It has been reported that the actor was very close to Sussanne, even indicating that the two were having an affair.

Rampal and his wife Mehr Jesia have been very close to Hrithik and Sussanne, and the two couples have even vacationed together.


To clear his name, Rampal has sent out an official statement of his own. We produce it here:
'It is very sad when friends close to you take a decision to separate. These are the hardest times for them and we must be sensitive towards this decision, rather than creating speculation and rumours.
I read in the news, about the same time as you all, about my involvement in this marriage. It saddens me deeply that rumours become inevitable during celebrities going through such times.
Mehr and I wish them only peace and love through these times, and support them as friends should, and we wish them and their families well, always.'
In the picture: Sussanne Khan and Arjun Rampal. Photograph: Abhijit Mhamunkar