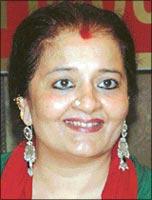 Apara Mehta, more commonly referred to as Savita Virani, is relaxed these days. After her death in the serial Kyunki Saas Bhi Kabhi Bahu Thi, she no longer has to carry the tremendous pressure of being the senior-most daughter-in-law in the perennially problem-ridden Virani family.

We caught up with the woman who has become synonymous with the word 'saas' on Indian television. "Believe it or not, this was the first time I played a death scene in my life!" she says, when asked about her last scene. "My mother cried a lot when she saw me dying on screen and even requested me not to enact any such scene in future."

"Smriti Irani (Tulsi) and I did a 14-page scene in one of the main shots on my deathbed. There were no retakes and, believe it or not, the scene lasted close to an hour. This was possible only because of the fantastic chemistry Smriti and I share on the sets," says Apara, who treated the entire cast and crew of Balaji Telefilms to a Gujarati lunch on her last day. "I asked the same caterers who had cooked for my wedding 25 years ago to prepare a typical Gujarati thali for lunch. These people have given me so much. I completed six years of working for the serial in April."

So, what is Apara doing post Kyun Ki? "I'm not sure," she replies. "I am waiting for (producer) Ekta Kapoor to provide me with the right opportunity – like she did earlier with Savita's role." But that doesn't mean she will be staying home. "As you are probably aware, I have been doing a Gujarati play – Kemcho Majama – for some time. I have done 127 shows in just 100 days, and will keep myself busy with that. I am a workaholic."

The actress is also in the Zee serial Saath Phere – Saloni Ka Safar, playing the role of a US-returned

Indian woman. "My character, despite being someone who has returned from the US, is very traditional. She is the head of Saloni's family and is always busy finding fault with Saloni. It's a very spicy role!" says Apara.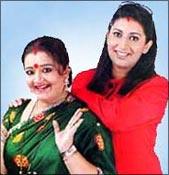 "After the huge success of Savita Virani's character, I had to be very choosy about the role I would play next. I got a number of offers, but not many were appealing. I chose this serial as it was not a new one, but a successful one with 150 episodes complete before my entry. The director explained all the characters in detail to me, only then did I agree to take on the role." Interestingly, the actress designed the way her new character would look. "They wanted my character to look somewhat like Savita Virani, but I told them to make it different. Even the slightest resemblance would lead to a lot of unwanted comparison between the two characters."
Apara can afford to be choosy, considering the way she has climbed the popularity charts. "When I go abroad for different shows, irrespective of the origin of the person, people recognise me as a television actress from India. But my proudest moment came when I was invited by the then Prime Minister Atal Bihari Vajpayee for an official dinner in Delhi. He welcomed me by saying 'Welcome Aparaji', not by using my screen name, Savita Virani. It felt very nice to be known as an individual."
She now has plans to practice something she has always liked – singing. "Both my mother and I are trained singers. I want to sing in my free time, but I doubt how much of it I will manage given my hectic schedule!" says a beaming Apara. We're sure she'll find the time.