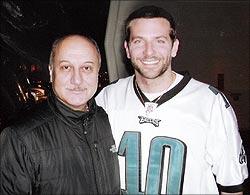 Having shared 33 days of screen space with the
World's Sexiest Man Bradley Cooper
, Anupam Kher has returned to Mumbai feeling
maha
-sexy.
"Yes I am feeling really good about life, and that's as sexy as it gets for me," Kher said. "I joked with Bradley that I missed out on being voted the world's sexiest man by one vote. I told him my mother voted for him, and that's how I lost. That broke the ice. He cracked up. I think that's why he needed a shrink."
Kher plays Cooper's shrink in David Russel's
The Silver Linings Playboy
.
Incidentally, Anil Kapoor was also considered for the role. But when Kher bagged the role, Anil was the first to congratulate him.
Says Kher, "Yes, Anil was the first to congratulate me. He told me it was the role of a lifetime for an Asian actor. And I agree. I think The Silver Linings Playboy is my Hollywood Saaransh."
Though Kher is not allowed to say much about his role, we learnt that he plays Dr Patel, a psychiatrist to Robert de Niro's son (played by Bradley Cooper).
Says Kher, "Early in my career, I got to share screen space with India's greatest actor, Mr Dilip Kumar. Now I've worked with Hollywood's greatest. After working with De Niro, I understand why he's who he is. They don't make actors like him any more."
Kher's proudest moment as an actor was when, after their first scene together, de Niro told him, 'You're terrific.'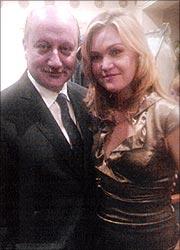 Says Kher, "Yes, that was an incredible high. But my biggest challenge was to speak normal, unaccented American English, so that my speaking voice didn't stick out like a sore thumb alongside De Niro, Cooper, Julia Stiles and Chris Tucker. It was a challenge because I don't think in English. I had to compel myself to form my thought-expressions in an alien language."
Kher did not want to play Dr Patel as a thickly-accented Gujarati stereotype.
"That didn't work for this film and for director David Russell, thankfully," he said. "I was fascinated by Matthew Quick's novel. Quick had also written Little Miss Sunshine. My character of the Gujarati shrink was an integral part of the novel."
Apparently, while doing therapy sessions with 'patient' Bradley Cooper on the couch, Kher hit it off with the superstar, recently voted by People magazine as the world's sexiest man. The two became close friends.
On the last day of shooting, Anupam took the entire team for dinner to an Indian restaurant.
He has returned with his most prized possession: a poster hand-signed by Robert de Niro, saying, 'See you soon.'