When Miramax released Neil Jordan's The Crying Game (Forest Whitaker, Miranda Richardson, Stephen Rea) over a decade ago, its distributor went out of the way to ask the audience not to reveal the end.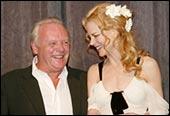 But for their new film The Human Stain, starring Anthony Hopkins and Nicole Kidman, which is supposed to have a startling ending, Miramax is not requesting discretion.
Considered by many as a possible contender for major Oscar nominations, The Human Stain premiered at the Toronto International Film Festival 2003. It opens in a limited number of theatres on October 3.
Perhaps there was little the distributor could do to hide the movie's horrifying truth: the drama, directed by Robert Benton, is based on Philip Roth's best-selling novel of the same name. A paperback edition of the book has been reprinted to coincide with the film's release.
The Human Stain revolves around a distinguished white Jewish professor Coleman Silk (Anthony Hopkins), whose professional life at a New England college is shattered by allegations of racism. His personal life is also infected with a lie he has been hiding for around five decades.
Convinced that he will have to fight for his survival, Silk becomes friendly with writer Nathan Zuckerman (Gary Sinise). He also has a tempestuous relationship with a much younger woman (Kidman).
At the end of the book -- and the movie -- we get to know that Silk is actually black.
How then does Hopkins not have a figment of dark complexion?
Trade publication Variety discussed the issue with executives at the production company of The Human Stain, Lakeshore. One of them, Tom Rosenberg, said he believed there would be 100,000 blacks who could be easily mistaken for whites.
That is why director Robert Benton did not want Hopkins's character to even look sun-tanned.
| | |
| --- | --- |
| | Don't miss! |
| | |
Rosenberg told Variety that Roth had once dated a black woman. Also, a consultant for the film, Alison Davis, a black man, was mistaken for a white on many occasions. He was often beaten up or threatened by fellow blacks in the 1960s who did not know he was one of them.
Some of those African Americans with white complexion even passed themselves off as whites and severed all relations with their natural families, a Lakeshore executive added.
Hopkins and Kidman spoke to reporters on the eve of the film's gala North American premiere.
Hopkins said all talk about 'chemistry' between artistes is bull and the shooting of the scorching love scenes between him and Kidman's character was purely mechanical.
Kidman was surprised that some people should think that a man in his 60s or 70s (the professor in this case) could have a sexual relationship with a woman nearly half his age. She said it was a state of mind that triggered the sexuality.
Kidman revealed that the sensuous and mysterious character Meg Ryan plays in Jane Campion's In the Cut was offered to her. The actress turned it down because she was still going through angst after her separation from husband Tom Cruise. She did not have the emotional strength to handle the complex character, she said.
Campion had directed Nicole Kidman in the 1996 film The Portrait Of a Lady. In The Cut, which also premiered at Toronto, is being released on October 22. Ryan, Ruffalo and Campion are in Toronto to promote the movie.
Photograph: Getty Images
Click here for More Features