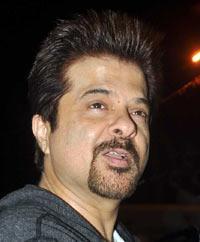 So what is it that makes Anil Kapoor look so young?
The actor finally revealed his secret on his 54th birthday on December 24.
"I try my best to do the right things," Kapoor says. "Staying healthy and fit is just a matter of discipline. Recently, I had the good fortune of meeting the Dalai Lama. I felt so cleansed! Just listening to him is an enriching experience. He said that how you feel and choose to live is all up to you. If you lie to yourself and to others, you're bound to be unhealthy. At 82, look how radiant the Dalai Lama looks! Positivity has always been my mantra for existence."
The actor shares his eating habits as well: "I never touch
samosas
. But I love the crust. I don't have the filling. People say I look like a
samosa
without the filling! I've worked hard to stay slim. I've never been a red meat eater. I eat carefully but I do indulge myself (
sometimes
). One has to give up some pleasures to achieve what one wants to."
Kapoor has never shied away from hard work. "It seems like I've been working all my life. And that's the way I like it. I've always gone by instinct. For example, I was offered television in the West, with big money. But I wasn't tempted. I've always wondered why others get big money while I have to work my ass off to make a decent living! Nothing has come easy to me.
"When I see people like Tom Cruise and Amitabh Bachchan, I feel I don't work hard at all," he continues. "When I see Salman Khan and how hard he works on his body, I want to work harder on my body. Look at how hard Hrithik Roshan and Ranbir work."
Anil Kapoor now wants to work towards a six-pack physique. "I never had a paunch but regrettably, I never had a six-pack either. Hopefully, with my son's help, I'll get there too. In the meanwhile, I've lost six kilos for 24. I am more agile, flexible and lean now."