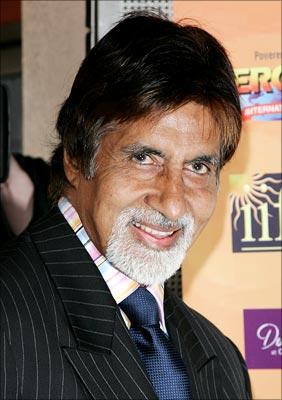 The Indian International Film Awards head to Yorkshire this year, and brand ambassador for the event Amitabh Bachchan announced the nominations at London's Madame Tussauds -- an interesting choice of venue given Shah Rukh Khan unveiled his waxwork there just a day before.

And with the Big B making an appearance in April, the media couldn't help but ask him about his son Abhishek's impending nuptials with Aishwarya Rai. Bachchan, as always, called the issue a personal affair and something he wouldn't prefer commenting upon.
Spotting Ash and Abhishek in London
The nominations were interesting, since Karan Johar's Kabhi Alvida Naa Kehna resulted in both Bachchan Sr and Jr nominated for a Best Supporting actor award. The awards will be handed out at Sheffield's Hallam FM Arena on June 9.
Brushing aside the rumours of SRK rivalry, Bachchan smiled and said he was happy that King Khan too has found his place at the world-renowned  wax museum. He said that it was a joyous occasion for the Indian film industry and the country as such. Bachchan, of course, was the first Indian actor to be honoured by Madame Tussauds.
Now in its 8th year, IIFA plans to go green. The target is to lower the emission of carbon dioxide, from all quarters. With support from international celebrities like Sienna Miller and TV networks like MTV, it's bound to gain momentum. Closer home, John Abraham, Lara Dutta and the entire Bachchan clan -- including daughter-in-law to be, Aishwarya Rai -- have vouched their support for the campaign. 

Bachchan also stressed that IIFA till date haven't found their footing in North and South America. He mentioned that there was a proposal from New York City, but in the final vote count Yorkshire beat out the Big Apple.
Text: Vaibhav Desai | Photograph: Getty Images