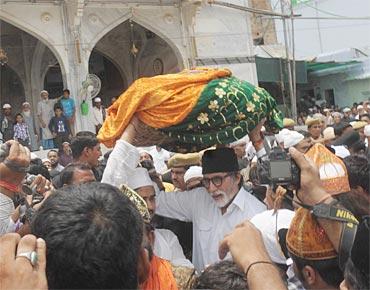 Amitabh Bachchan visited the holy Sufi shrine in Ajmer Sharif on Monday when one of his wishes had been 'fulfilled.'

Bachchan tweeted that he had visited the shrine 40 years ago. He untied a dhaga, thanks to a 'promise fulfilled' and tied a fresh one.

The actor clarified that his fulfilled wish had nothing to do with daughter-in-law Aishwarya Rai Bachchan's pregnancy.

Fans, who got wind of Bachchan's arrival, thronged the venue for a closer look.
After his Ajmer stop, Bachchan headed to Jaipur.