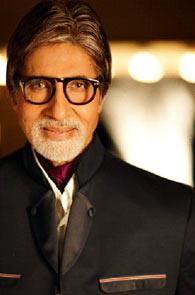 Among Bollywood stars, Amitabh Bachchan is the undisputed king of Twitter, according to the 'Bollywood Twitter Index', a social media analytics report released by TO THE NEW, a digital services ecosystem in India.

The index showed the number of Bachchan's followers on the micro-blogging site rose 87 per cent compared to last year. In the index, Bachchan was followed by Shah Rukh Khan, Salman Khan and Aamir Khan. Priyanka Chopra stood sixth.

The report is based on research by ThoughtBuzz, TO THE NEW's social media analytics arm.

Despite the number of her followers rising 151 per cent over last year, Madhuri Dixit didn't make it to the list.

With an 87 per cent rise in the number of followers, Sonam Kapoor was 10th on the list. Other significant gainers included Akshay Kumar (a rise of 99 per cent in the number of followers) and Deepika Padukone (82 per cent rise).

Despite virtually no activity this year, Aamir Khan added about 200,000 followers in the past two months alone. This year, his only tweets were those related to his meeting with UK Prime Minister David Cameron, and "#ThankYouSachin" during Sachin Tendulkar's
last test match in Mumbai.
Celebrity talk
Most conversations (27 per cent) of Bollywood celebrities are related to promoting their work or films. A total of 24 per cent of the tweets were related to sharing personal experiences or interacting with their fan base.
Other discussions were related to promoting their brands (nine per cent), favourite quotes (seven per cent), opinions on specific issues (six per cent) and social causes (four per cent).
"The rise in popularity of social media platforms, particularly Twitter, has broken down barriers, allowing fans to gain personal access into the lives of the stars, which they may never have had the opportunity to otherwise. Bollywood stars who have taken to micro-blogging to engage with their fans have gained millions of followers and emerged as powerful social influencers," said Puneet Johar, managing director, TO THE NEW.
The Bollywood Twitter Index is based on a comparative study of the most active celebrities on Twitter (based on number of followers and tweets a day). It analysed Twitter content on the basis of the last 100 tweets during the period ended October 2013.