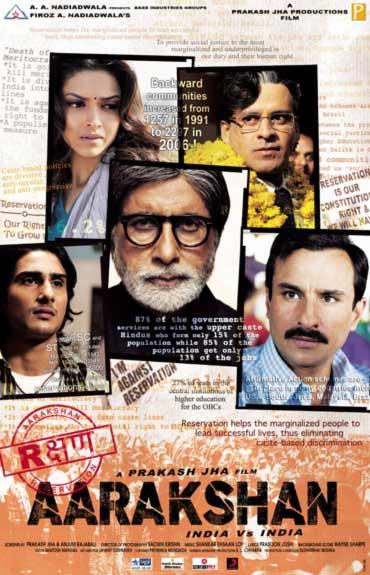 Amitabh Bachchan visited Patna today to promote his upcoming film Aarakshan.

He arrived along with cast member Manoj Bajpayee and director Prakash Jha. This is the first time that Bachchan is in Patna to promote a film.

A source close to Jha told rediff.com that Bachchan will watch Aarakshan with Bihar Chief Minister Nitish Kumar at newly built multiplex at the P&M

Mall.

Nitish Kumar is an ardent fan of Bachchan and expressed his desire to watch the film with the actor and director Prakash Jha.

Last month, Jha met Nitish Kumar when the latter visited a new restaurant at Jha's shopping mall in Patna. It was there when Nitish expressed his desire to watch Aarakshan with Amitabh.

Aarakshan revolves around caste-based reservations in government jobs and educational institutions. It will release on August 12.