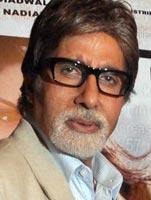 Legendary actor Shammi Kapoor [
Images
], who was on dialysis for quite some time before his death, had said he was tired and that he could not take it anymore,
Amitabh Bachchan [

Images

]
reminisced.
"He had got tired during the last 2 days. Never one to give up, he spoke for the first time in a tone that conveyed that he had had enough, to Jaya a few days ago. 'I am tired, I can't take it anymore' he lamented, with choked emotion. Morning at 5:15 he gave himself up to the heavens!," Bachchan wrote on his blog.
It was Bachchan's daughter Shweta, who informed him of Shammi's death, after which he drove immediately to the actor's residence.
"It's always that dreaded moment in the early hours or deep in the night when that phone call comes and bears the news of a crisis. Shweta, walked into my room gingerly and in the dark spoke up softly - 'Papa! Shammi uncle passed away just now! I sat up. The first words that come to your mouth are...Oh! God!...and then everything else takes over," Bachchan said.
"A million memories hurry past as you drive down to his 'Blue Haven' residence. A cozy warm and welcoming apartment where we had spent many wonderful evenings and nights with him and his effervescence. There as I walk past his still pale figure embalmed and kept in a freeze container, you feel as though he would spring out of it and with his feisty elan invite you over to dine with him," he said.
The actor was
cremated
this morning at Ban Ganga, where his first wife Geeta was cremated.
The 79-year-old actor, who was fond of driving cars, had expressed his desire to ride a Rolls Royce.
"'I want to ride a Rolls Royce', he would often say. And when I offered to send him mine to keep and drive at will, he would resist it. 'Let me come out of the hospital then we shall both go for a drive in it' he had excitedly told me. We never could get that ride together," Bachchan said.
Talking about Shammi's hospital visits, Bachchan said, "He just loved life and all that it threw to him. He never gave in. Strong and full of happy will, even as he struggled in his later years, he would never give the impression how gravely ill he was."
"He would laugh and joke on his numerous visits to the hospital for his dialysis, joke with the staff in the hospital, pull their leg. He would almost make you feel that he was visiting you in hospital, rather than the other way round," he said.
Bachchan and Shammi have worked in few films together like Manmohan Desai's
Parvarish
(1977), B R Chopra's
Zameer
(1974), Manmohan Desai's
Desh Premee
(1982) and Shashi Kapoor's
Ajooba
(1991).
"Shammi
ji
and I worked together in a few films and it was moments that can never be forgotten. His verve for life, its excitement, its energy was infectious. He would enter a room and suddenly everything would electrify. You were happy in his company and his optimism. Spending a few moments with him could pump up the adrenalin to its maximum degree," Big B [
Images
] said.
"He would affectionately call me 'Babua' and every time he saw me excel in something his was the first call," he said.
During his college days, when Bachchan first saw his film
Dil Deke Dekho,
he was mesmerized by the sheer power of his presence.