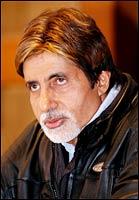 It's a brand new year, and all is well with Amitabh Bachchan after his illness. The megastar is still some time away from resuming work as usual, however, and in this conversation, he tells Subhash K Jha just how his recuperation is going, even as his first release of the year, Family, is slated to hit theatres on Friday.
It's been quite a time for you!
Yes. Still a long way to go. Yes, I'm still weak. Recovery after such an illness takes a very long time. Internally, I'm yet to heal completely. It will take at least six to eight weeks. And then I think complete recovery will take about six months. So I don't know when I'll get back to work. Work is absolutely ruled out right now.
 You mean gruelling work. What about dubbing and less arduous work?
Any kind of work is out for now. Right now the main fear, besides the physical weakness, is the infection. I can't go to crowded places since I'm susceptible to so much infection right now. It's better to recover fully before getting into active work again.
Was this illness like a deja-vu of your 1982 situation [Bachchan was hospitalised on the sets of Manmohan Desai's Coolie]?
I didn't know what was happening! We knew the circumstances that put me in that situation in 1982. Even the morning when I was hospitalised on this occasion, I had no clue what was happening.
How exactly did it happen?
I got up with a slight pain in the morning. The previous evening my father's birthday was celebrated in Lucknow.  When he had passed away, the UP [Uttar Pradesh] government had issued a stamp in his honour, which was released by the then prime minister Mr Atal Bihari Vajpayee. Atalji and my father had an enduring association. He [Vajpayee] expressed a desire that a kavi sammellan be hosted on November 27, my father's birthday, every year.
We do just that every year at the Sahara Shaher in Lucknow, and that's where we were. The next day, I was supposed to go to Dehradun for a family wedding. On the way back from Lucknow, I woke up with a stomach pain in Delhi. My doctors suggested some tablets. The pain didn't go. Then the doctors suggested some tests. And then you know the rest: The TV channels got to know I wasn't well, because I had to go to Escorts for tests.
The hysteria that your illness generated was unprecedented.
When you're in hospital, in the ICU [Intensive Care Unit], you're in a confined area, and you don't know what's going on outside. Once I got out of the ICU, the reaction of the outside world began to filter in to me. Fortunately, we're living in modern times. There was a television in my hospital room.
It was very overwhelming to see the expression of people's emotions and love, their sincere prayers and penance for me. I can't express what it made me feel. I'm short of words and deeds to repay their love. It's a debt that I'll carry on my shoulders -- a happy debt. But one that I can't hope to repay, except through my work.
Thankfully, your recovery has been relatively quick.
That's because of the right decision taken at the right time. Unfortunately, during my illness in 1982, precious hours went by before action was taken, and the infection was allowed to spread until it reached a critical point. This time the diagnosis was quick. The doctors were competent and ready and the decision to operate was taken immediately.
It's felt that a day was wasted in Delhi.
But we didn't know what it was! I was in the Delhi hospital on November 28. They discovered something was wrong. But the exact nature of the malady wasn't immediately traceable. The perforation was in the lower intestine and the infected area had got stuck in the larger intestine. So the actual problem couldn't be seen immediately. But the good part was that the perforation was being blocked and the poison didn't spread in the stomach. I was back in Bombay the same day.

The taxmen swooped down on you at this inopportune time...
No, why do you say that? They were doing their job at the time when they were meant to. My being ill or in the hospital had no bearing on their professionalism. I admire the bureaucracy for its competence. They're a very knowledgeable, efficient and focused machinery. They come through to the citizen by a process of protocol that's really quite incredible.
They are people with the task and duty to administer the law of the land which comes above every individual and organisation. The officers of the revenue department were only doing their job. Whether I was in the ICU or the hospital was irrelevant. Yes, I get the constitutional right to fight their deliberations, and that we're doing. If outstanding payments have to be made, they will.
But you were ill! 
Why make a fuss about it? It just so happens that I was in the ICU and I did have to write a cheque from there. But I see no reason to blame them for doing their job. They have an onerous task. And I've followed their rules. I've never tried to evade any tax. I'd like to believe I'm an honest tax payer. I've always paid my taxes and never been looked at as a tax-dodger. But it's my right to question the amount I'm asked to pay as tax. And if I lose the appeal, I'll readily pay the amount I've been asked to.
Still, it seemed like you were being singled out for this taxing treatment.
Why do you say that? It may look like that because I happen to be someone in the news. I'm sure there are hundreds of others who are in worse tax trouble.
You visited Tirupathi and Goa at the end of last year?
Yes. Tirupathi was an overnight visit. Then, at the yearend, I was with family and friends in Goa. The doctors were with me.
Any special moments  from the whole harrowing experience?
Yes, the fact that I recovered as quickly as possible. And the outpouring of great love.
Did it ever seem like a bit too much?
No. People came at designated visiting hours. Not everyone was allowed to meet me. But those were hospital rules, nothing to do with me. They came, met Jaya, Abhishek and Shweta, and wrote wonderful things in the book which I'll cherish forever.
I'm unable to put it in a time frame to it. I don't know how my body will heal. I wish I know what my body was thinking and saying. If I did, I wouldn't have been in this situation in the first place [laughs uneasily]. Now, I'll just have to wait. At least six to eight weeks, and then another six months. But physically, work is out for now.
Does the pile-up of work look immense?
Not really. The producers have been extremely understanding and kind, whether it's Karan Johar, Ravi Chopra or KBC. They've all been very nice, saying, 'You get well first.'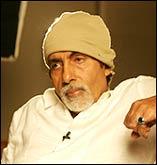 Will KBC be your first priority after you get back to work ?
Let's see. We've been in talks. I think my episodes have ended. They'll have to make-do until I can record for them.
How does it feel to have so much free time on your hands now?
Yes, I haven't had a break for some time. But I'm not restless. I'm waiting for my body to recover. I'm getting the time to do so many things that I had left unattended: It could be clearing up a cupboard, or putting my books and papers in order. Most of all, I'm being able to spend time with my family. I can also afford the luxury of just being myself.
And introspecting?
I don't think you need to make time to do that, even while you're working. 
This illness again proved your iconic status...
You know, I don't like listening to such things. It makes me feel exalted way beyond reason. I don't believe in being an icon. I'm merely grateful to people for their love and concern. I don't know what I've done to earn it. But I'm grateful to them.