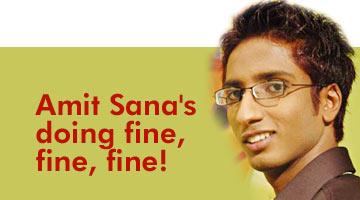 Voted out in the final of the Indian Idol competition, Amit Sana is still a very happy young man. The Sony Entertainment Television talent hunt gave him the room to expand from classical singing to popular music, and he has been noticed across the country. Amit is now immensely popular, despite not winning the Indian Idol crown.
Amit is currently getting many offers for stage performances. Just settling into Mumbai as his base (Amit hails from Bhilai), he is confident of achieving stardom within the next few years.
Amit spoke to Senior Correspondent Vijay Singh:
What do you think helped you to reach the final of the Indian Idol competition?
Destiny and work helped me to become the runner-up.
I am accepting destiny's role in my success because I dropped out twice but was voted in again. 
Yes, hard work matters but destiny helps you at the right time, and gives you the success you deserve.
You are a classical singer. Do you think you had to compromise in Indian Idol with a lighter kind of music?
I don't call it a compromise.
I like to sing all types of songs, and don't want to keep myself limited to any particular type of song.
I am a good classical singer but I want to be good in Western and filmi songs also. I want to become an expert at all types of songs.
Are you going to learn dancing as well?
I want to become well-versed in dancing also. I am going to do stage shows, where with songs you also have to have a good presentation. And if you know dancing, it supports you during stage shows.
Farahji (Khan, choreographer and Idol judge) told me about it. I was realising it is important, but when she pointed it out to me, I decided to learn dancing.
What major changes have you been through because of Indian Idol?
My attitude has changed. One should be mature and ready for a performance at any point of time.
One should be always positive and optimistic in this field.
Always think about your strengths and hide your weaknesses behind them.
New to Mumbai, how well-versed are you with the music industry?
I am here for the last three months. I chose music as my career, so obviously I have discussed it with people here.
It's a very big industry, and many singers are struggling. You have to work hard for survival.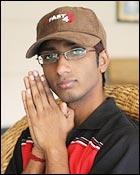 Reaching such a high level despite such tough competition must have given you some confidence.
Yes, it was good to see myself among the top two from among so many contenders.
And through Indian Idol, people got to know about my voice.
The next time when they hear my voice, they will find it familiar. This is a plus point for me.
When you are new, you are not sure whether people will like your voice or not.
Who supported you the most during the Indian Idol competition?
God.
I took many risky decisions at different points in time. Sometimes, I took decisions that others didn't like. But I benefited from them. 
For example, I selected the song, Zindagi mein kabhi koi aaye re rabba. This was not a popular song, nobody had really heard it but it was one of my favourites. I selected that but many people opposed my decision.
I took a risk, and it worked.
Before Indian Idol, what were you doing?
I have completed my high level classical singing classes a few years back. After that, I concentrated on my engineering studies.
I have a limited number of friends. From college, I would come home directly. I spend most of my time watching television and studying.
Before the show, what plans did you have for your singing career?
Actually, I was waiting to finish my graduation (he is a final year student in Bachelors in Information Technology and Management) and come to Mumbai to struggle in the field of music.
How did you learn about Indian Idol?
I came to know about it through television.
After that, I collected information about it from the Internet, and registered myself for the competition.
I prepared myself to work hard and give my best performance.
What was your experience at the initial selections?
On September 8, I waited four hours for my turn to sing. I sang Albela sajan.
I sang it again in front of the judges on September 11. They liked it.
At the selection spot, people were very fancy. They were Westernised, singing English songs and playing the guitar.
I stood silently in a corner, and watched them. I felt a little inferior, and became nervous.
But I was confident that the judges were very good, and had a good knowledge of music, so they would identify my talent.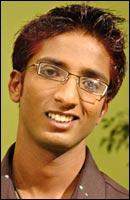 How did Indian Idol help you?
I am a student, and now suddenly I get some source of earning! Otherwise, it would have taken so many months for me to come to Mumbai and struggle and achieve something.
Now, people listen to my songs, and I am getting various offers for stage shows!
Sony is going to launch my music album! I did not expect all this!
It made you a star.
No, but it gave us the feeling of how stars deal with people; how they feel...
I need to work hard for at least four or five years to actually become a star.
My classical background will help me improve.
How do you plan to advertise yourself?
I have to work hard for my survival in the music industry.
I am making contacts with people. People in Mumbai are very busy.
How did you feel when you were voted out in the final?
I felt nervous. But I am satisfied with my last performance, which was very good. I am still successful, I reached where one can reach only after struggling for many years.
I am happy with whatever I get!
Did belonging to a small town go against you?
It is not like that.
If I belonged to a bigger town, I would have definitely got more SMS votes. But it also gave me positive results.
Anyway, now Mumbai is my base.
Which musician do you admire the most?
I am a big fan of classical singer Ustad Rashid Khan. I've liked his songs from childhood.
Don't Miss!
Indian Idol returns home!
Laughter, fireworks greet Indian Idol victory!
Not the Idol, the superstar!
Why Priyanka quit the Idol race!
'Indian Idol gave me a platform!'
Watching Indian Idol with Rahul Vaidya
Will Amit be the Indian Idol?
Will Abhijeet be the Indian Idol?