Legendary filmmaker B R Chopra passed away on Wednesday morning. Music composer Ravi (Gumraah, Waqt, Nikaah) who worked with Chopra in most of his directorial ventures pays tribute:
I felt very sad when I heard B R Chopra had passed away. He was my favourite producer. It was a delight to work with him. I have composed music for 75 per cent of his movies, whether it was Gumraah, Humraaz, Nikaah or Tawaif. All the movies we did together were musical hits. He loved me a lot and treated me like a family member. 
Everyone in this trade knows he was a great producer. He was a good film-maker who made wholesome entertainers. But his movies also had a message. All the producers I worked with have slowly passed away; this reminds me of a line from a song from Kaagaz Ke Phool written by Saahir Ludhianvi Arey dekhi zamane ki yaari, bichade sabhi baari baari. All my friends have gone.
B R Chopra was the master of courtroom scenes; look at the court room drama in Kanoon.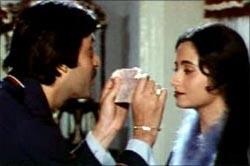 I

remember an incident that took place when we were working together. We were composing the song Dil ke armaan for the film, Nikaah. I always wanted the lyrics of the song before I set it to music. After I got the lyrics, I would create a number of tunes. For this song too, I composed 16 tunes. B R said I had confused him by creating so many tunes.

 

Finally, we selected one tune but our singer, Salma Agha, could not get it right. Instead of selecting another tune from the ones that were left, he asked me to create a new one. And that was the tune to which she sang the song.

 

There were other times when I would make one tune for a song and say this is the best and I won't make another one. And he would agree. He understood music well which is why his films had the best of songs.

Just two months ago, I was called to Delhi to attend a programme in his honour. When asked to speak, I said B R Chopra should be honoured with the Bharat Ratna because, through his serial Mahabharat, he had made India famous all over the world. I visited my friend in USA and he asked me if I wanted to watch Mahabharat. He had bought the complete series. That is the kind of following BR Chopra has.

 

I met him eight days before his death. Ravi Chopra's wife took me to his room he looked at me blankly. That's when she told me he did not recognise anyone any more. I felt sad. May his soul rest in peace.