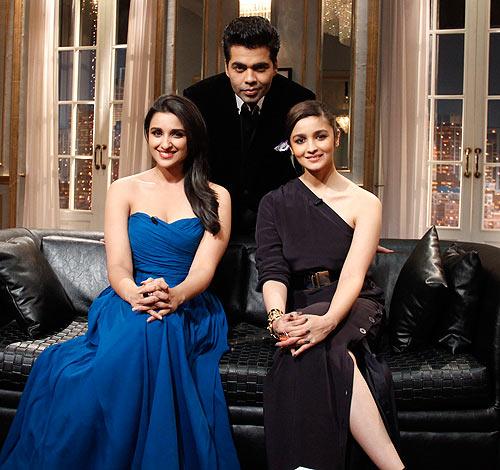 This Sunday, Koffee With Karan will feature Parineeti Chopra and Alia Bhatt.

Here's presenting excerpts from the season's last celebrity show:

Karan: So Alia, you definitely have a sense of possessives for Varun (Dhawan)and Sidharth (Malhotra). That I know for a fact! You feel a bit territorial. So when these boys work with Parineeti, how does it make you feel?

Alia: No, they are constantly
pulling my leg. Oh Pari is so sexy...Oh Pari is like this...Pari is like that!
But I know that they...Sorry, (
to Parineeti
) love me more than they love her. And I know that for sure. But it's the same way like Arjun (
Kapoor
) can love Pari more than he loves me! So that's fine.
Karan:
But rumours say that you have made that turn also!
Parineeti:
Even I would like to know this!
Karan:
You have managed to get Arjun also do this flip.
Parineeti:
But I disagree to this.
Alia:
You disagree!
Parineeti:
No! I am not saying anything!