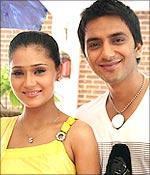 Sara Khan's boyfriend Ali Merchant entered Bigg Boss because he claimed he could not cope up the closeness between Sara and Ashmit Patel. Within a day of his stay, he proposed to his girlfriend of three years, and they got married on November 10.

That's when reports of the couple already being married emerged. Ali clears the air.

There were reports that you and Sara were already married, and your wedding in Bigg Boss was staged for TRP's.

I was shocked when I got to know about it after I came out of the house. If we got married two years back, it should have come out then. Why now?
But there are pictures of your wedding.
We were engaged, and the picture which is being circulated is from that ceremony.  
Sara's family lives in Bhopal. They wouldn't have approved of us living together under one roof. That's why we got engaged. Shariat is a legal permit, where a boy and girl can live together but in a separate rooms.
There's a kazi in the picture too. Why would you need a Kazi when there was no nikaah?
The kazi was there to give his blessings and for nazarana (to remove the evil eye). Plus, we had to sign some papers as part of the Shariat.  
So why did her family tell the media that the two of you were already married?
How could they say that? I was really shocked when I heard about it.
Sara's parents are not concerned about her; they are only interested in her money. She is supporting her family financially.
Her mother called up her mama to tell me to send some money. I am not concerned about them either. I know them only as her parents.

There were reports that you were paid Rs 50 lakh to get married on the show?
I come from an affluent family. I have my own business. We don't need to do this for money or publicity.
But why would they pay a 'married' couple to get married?
There were also reports that Ashmit Patel, Sara and you had dinner together before you entered the house.
I would give the person the money if he gets me proof of all this. I went into the house because I was missing Sara terribly and wanted to show people who she really is. She is an innocent girl but was getting brainwashed by some people in the house.
Like who?
Sakshi Pradhan instigated her for her own agenda and Sara fell into her trap.
Dolly Bindra didn't say so but it was clear that she wasn't interested in your wedding.
Initially, I had asked Sara to maintain a healthy relationship with Dolly. But I was shocked after seeing Dolly's behavior in the house. She likes being the centre of attention so she speaks loudly and uses bad language. She creates a lot of noise pollution in the house. She just talks for the sake of talking. Empty vessels make the most noise. That applies to her.
Who, do you think, should win the title?
It's difficult because there are two types of contestants in the house. Some of them are for the masses and the others are for classes, and they are chilled out.
I think Ashmit (would win) because he is focused, chilled out, disciplined and can handle any situation in a mature way.  
Will you have a reception after Sara comes out of the house?
Yes. We will have a grand reception and a long honeymoon too.