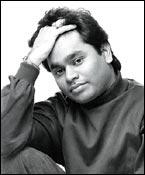 T
he craze to have a movie star lead the Independence Day Parade in New York --- the craze has been catching up in other cities --- is so big that the organisers of the parade have convinced themselves that even a has-been star is better than no star at all.
But this year's parade, held on August 15, is going to be different.
For this year's grand marshal, A R Rahman [left], prefers to be heard rather than be seen. He is not easily persuaded to appear in public. But can anyone really spurn an opportunity to be at the parade that has the potential of drawing over 30,000 people?

"He is a star in his own right, bigger than movie stars," says Sudhir Vaishnav, vice-president of the Federation of Indian Associations, which has been hosting the parade for 23 years.
"With his work for national integration, and his association with the World Health Organisation, Rahman has become like a statesman."
Rahman is a global ambassador for WHO and helps to publicise the fight against diseases like tuberculosis.

Echoing Vaishnav, FIA President R Radhakrishnan says Rahman is a national treasure whose music was so varied that it appealed listeners of different ages.

Vaishnav, the first Indian to be a producer on America's most glamorous theatre district, Broadway, with the $14 million show Bombay Dreams has been an admirer of Rahman for over a decade.
"I got into Bombay Dreams because of my association with Rahman," Vaishnav said, referring to a fund-raiser he had organised with the composer for the Bharatiya Vidya Bhavan.
Though Bombay Dreams is struggling at the box-office in the past four weeks, like most Broadway shows, there are rumours that the fast-paced and lovingly scored spectacle is going to have a big boost when a star like Janet Jackson fills the adorable Ayesha Dharker's shoes and makes the Shakalaka Baby song and dance sequence a bigger phenomenon than it already is.

The 24th Annual India Day Parade starts at 12.30 pm from 41st Street on Madison Avenue, New York, and winds down to  27th Street. The parade review will be at Madison Avenue and 30th Street. Three hour long cultural programs are scheduled at Madison Avenue and 23rd Street, starting from 3 pm.

The lead artists of Bombay Dreams will perform some of the hot numbers from the show on August 16 at the FIA organised banquet at Royal Albert's Palace in Ford, New Jersey. Cocktails and dinner will be served from 6.30 pm to 8 pm, followed by the cultural program.

For more information, contact Federation of Indian Associations at (718) 932-3240.